Apple wins patent for Cover Flow media selection GUI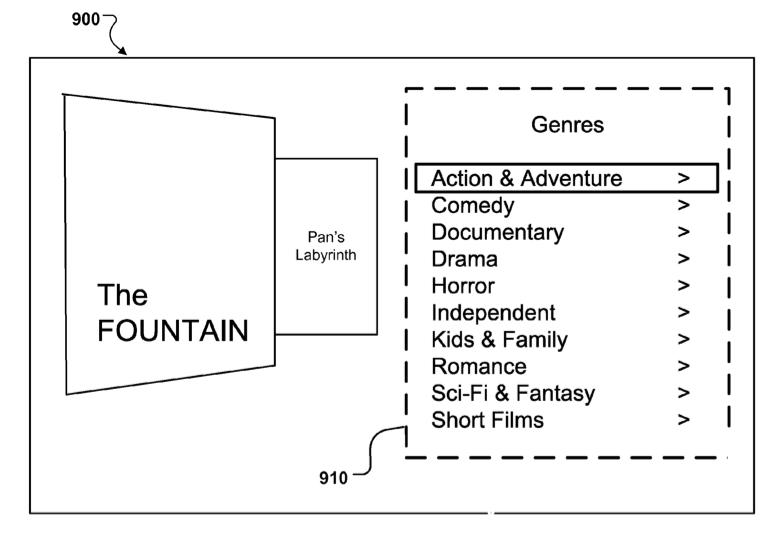 AppleInsider may earn an affiliate commission on purchases made through links on our site.
Apple on Tuesday was granted a patent regarding browsing and selection of digital media on a connected device using the Cover Flow interface first seen in iTunes 7.
The newly-won U.S. Patent No. 8,230,360 for a "User interface for selection from media collection" describes the basic idea of selecting media through Cover Flow, Apple's solution to browsing through and selecting from large collections of digital media by using corresponding images like album covers or movie posters.
The patent's first claim covers a system in which a "connected" device collects multimedia content from one or resources and displays the items in a specified group which can be rearranged visually to accomodate orderly viewing. While it falls short of explaining Apple's 2010 D613,3000 design patent for Cover Flow itself, the media selection property leans heavily on the older innovation and expands on the utility as it applies to selecting content items for purchase, rental and playback. The design patent spawned from Apple's 2006 purchase of the media-browsing GUI originally created by developer Steel Skies.
From Claim 1 of the '360 patent:
[...]wherein the group of content items is capable of having multiple states within the display, wherein the multiple states include a starting state, a middle state, and an ending state, wherein a starting state initially includes a flat content item on the left and one or more tilted content items on the right, wherein a middle state includes one or more tilted content items on the left and on the right, wherein an ending state initially includes one or more tilted content items on the left and a flat content item on the right, and wherein the state of the group of content items changes when a non-selectable content item in the group is selected[...]
Described in supporting claims is the well-known "stacking" or "flow" or content images "wherein content items in a starting state, a middle state, and an ending state overlap as they accumulate."
This GUI action is representative of the Cover Flow mechanism which has made its way into iDevices and most recently the OS X version of Safari.
The filing's illustrations almost exclusively feature what appears to be the original Apple TV interface while the corresponding literature makes a point to mention the patent covers a number of devices and consumption of media from a variety of sources.
Apple clearly had iterations of the iTunes store in mind with the '360 patent and notes ""A computer-implemented method, comprising: receiving, at a computing device, one or more content items from one or more resources, wherein content items include multimedia content, audio content, video content, image content, and user generated content[...]."
Cover Flow was a hotly-contested invention for Apple as the iPod maker was sued in 2008 for allegedly infringing upon a number of patents relating to the creation of "streams" of documents sorted by time. Apple was initially hit with $625 million in damages owed but ultimately won an appeal reversing the decision in 2011.