Passbook "key" in iOS 6, but Apple won't detail its future strategy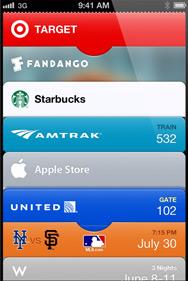 When asked whether Apple's new Passbook app for iOS 6 hints at the company's larger strategy for deploying a digital wallet infrastructure, chief executive Tim Cook described the new app as "a very key feature" but said he "wouldn't want to comment specifically on that point."
"Passbook is a very key feature in iOS 6," Cook added. "I think all of us have found that we were getting many passes and many tickets, maybe boarding passes, that were getting scattered all over our iPhones in different apps. And so Passbook does an incredible job of pulling all of those to one place.
"Whether it's or passes or tickets or whatever it may be, it's an important feature of iOS 6, and I wouldn't want to speculate about where it might take us."
Apple has provided a preview of the new Passbook app in iOS 6, describing it as "your boarding passes, movie tickets, retail coupons, loyalty cards, and more are now all in one place."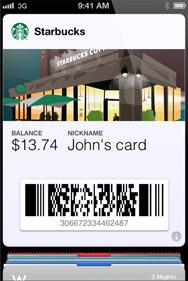 The company's promotional page for iOS 6 states, "with Passbook, you can scan your iPhone or iPod touch to check in for a flight, get into a movie, and redeem a coupon. You can also see when your coupons expire, where your concert seats are, and the balance left on that all-important coffee bar card. Wake your iPhone or iPod touch, and passes appear on your Lock screen at the appropriate time and place — like when you reach the airport or walk into the store to redeem your gift card or coupon. And if your gate changes after you've checked in for your flight, Passbook will even alert you to make sure you're not relaxing in the wrong terminal."
Passbook is an extension of time and location based reminders, along with a secure credentialing document mechanism. Third parties can generate digital Passbook receipts that the app then stores, which work as an electronic version of the tickets, passes loyalty cards and gift certificates they currently carry in their wallet.
The advantage to having these on your iPhone: they can pop up based on your location, provide reminder notifications and updates, and be canceled and refunded if the device is lost. A variety of third party apps already display electronic passes; Apple is just creating a central repository for them.
First step toward a digital wallet
After Apple announced the new app, Forrester Research analyst Charles Golvin stated, "Clearly, this is the first step in Apple providing a digital wallet."
A year ago, Google scrambled to deploy its own digital wallet strategy branded Google Wallet. That effort was oriented around near-field communications (NFC), which requires phones to incorporate an NFC chip that vendors can digitally read to process standard retail transactions or that users can tap to make purchases from vending machines.
The infrastructure that Google pushed out to make NFC purchases possible from new Android phones running the latest version of its software has largely sat idle however, as customers failed to see the value of that approach.
Similar systems have proven to be very popular in other areas, particularly in Japan, but none of the companies attempting to replace credit card swiping with mobile phone tapping in the US have gained much traction among consumers.
By delivering real functionality for iOS 6 users in the new Passbook app, Apple could pave the way for a broad expansion of ticket sales, electronic gift card purchasing, and other related services through iTunes. Apple already has over 400 million active users in iTunes with credit cards on file.