Mountain Lion updates for OS X Server, Xcode, Remote Desktop hit Mac App Store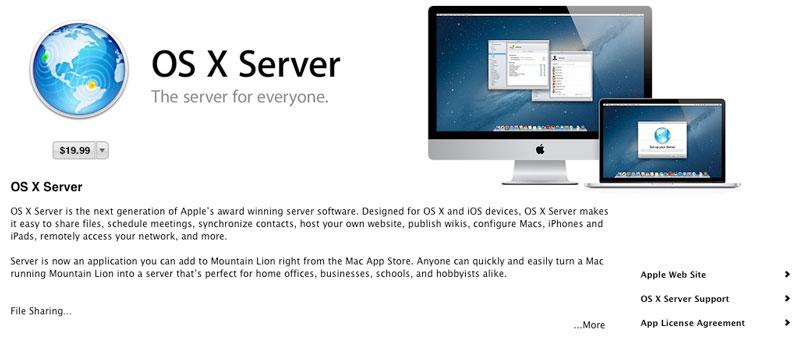 AppleInsider may earn an affiliate commission on purchases made through links on our site.
Along with Wednesday's release of OS X 10.8 Mountain Lion, Apple released Mountain Lion Server as a $19.99 upgrade on the Mac App Store, while Xcode 4.4 was also provided to developers, and Apple Remote Desktop also received an update.
OS X Server version 2.0 is now available for download on the Mac App Store. It's an application that users can add to Mountain Lion, quickly turning a Mac into a server that can be used for home offices, businesses, schools, and hobbyists.
OS X Server 2.0 is a 134-megabyte download from the Mac App Store that requires OS X 10.8 or later. Features of OS X Server for Mountain Lion, as highlighted by Apple, are:
File Sharing

File sharing for Mac, PC, and iPad
Standards-based AFP, SMB, and WebDAV file services
Flexible file permissions
Spotlight searching
Wiki Server
Point-and-click page editor to change formatting and insert images, movies, and attachments
Access controls
Tags and comments
Revision history
Document sharing
Quick Look previews
Profile Manager
Configuration and management for OS X and iOS
Over-the-air enrollment
Mobile device management
Web-based administration console
Self-service user portal for clearing passcodes, remote lock and wipe
Time Machine
Provide a backup destination for Mac computers on your network
Deliver backup support for OS X
Mail Services
Standards-based SMTP, IMAP, and POP server
Push notifications
SSL encryption
Adaptive junk mail filtering
Virus detection and quarantine
Calendar Server
Share calendars, schedule meetings and events, and book conference rooms
Standards-based CalDAV server for access from Mac, iPad, iPhone, and PC
View availability with free/busy lookups
Email invitations and notifications
Push notifications
Contacts Server

Synchronize contacts with Mac, iPad, and iPhone
Allow multiple users to access and update contacts
Standards-based CardDAV server
Push notifications
Messages Server
Secure encrypted instant messaging for your organization
Persistent chat rooms
Store-and-forward for sending messages to buddies who are offline
Virtual Private Network
Highly secure remote access for your network services
Encrypted VPN connections for Mac, iPad, iPhone, and PC
Xsan
Block-level SAN file sharing with concurrent read/write access
Xsan volume hosting and configuration
Volume management, storage pools, stripping, and volume mapping
Real-time monitoring, graphs, and event notifications
Metadata controller failover and file system journaling
Server App
Local or remote setup
Users and groups settings
View real-time graphs of server usage and activity
Other OS X Server features
NetInstall to automate OS X installations and upgrades across your network
Web server for hosting multiple websites
Software Update Server automatically downloads Mac software updates and cache them locally
The latest version fo Xcode is a 1.46-gigabyte download that runs in both OS X Lion and OS X Mountain Lion. Features included in Xcode 4.4, according to Apple, are:
SDKs for OS X 10.8 Mountain Lion and iOS 5.1.
Enhanced for the MacBook Pro with Retina display.
Code completion persists your selections to give more accurate suggestions.
Objective-C @synthesize command is generated by default when using properties.
Objective-C adds literal syntax for numbers, arrays, dictionaries, and expressions when developing for OS X.
Apple LLVM compiler supports additional C++11 features, including lambdas.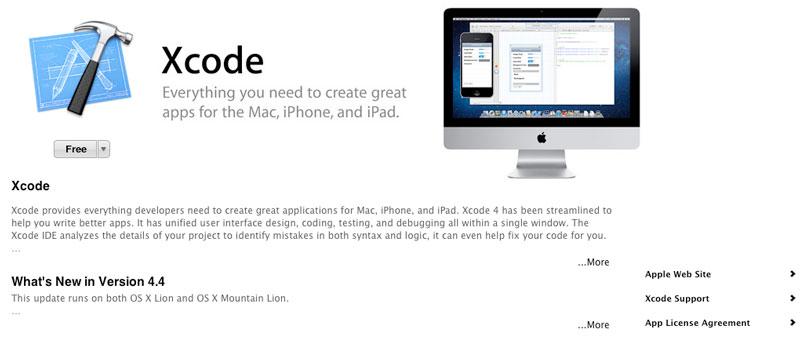 Assistant editor tracks caller or callee for the current selection.
New localization workflow can share a single base .xib file for multiple locales on OS X.
Source control can commit individually selected changes.
ARC migration tool converts both retain/release and garbage collected code.
Fixes an issue where code completion could fail, requiring the user to delete derived data.
Additional bug fixes and stability improvements.
Finally, Apple Remote Desktop was also updated to version 3.6 on Wednesday. The 10.3-megabyte download costs $79.99, and requires OS X 10.7 Lion or later, meaning Snow Leopard users will not be able to upgrade.
Version 3.6 of Apple Remote Desktop addresses several issues related to overall reliability, usability and compatibility, according to Apple. It is also said to provide new attributes in the System Overview Report, and support for IPv6.