Best Buy drops price of Apple's iPhone 4 to $50 with 2-year contract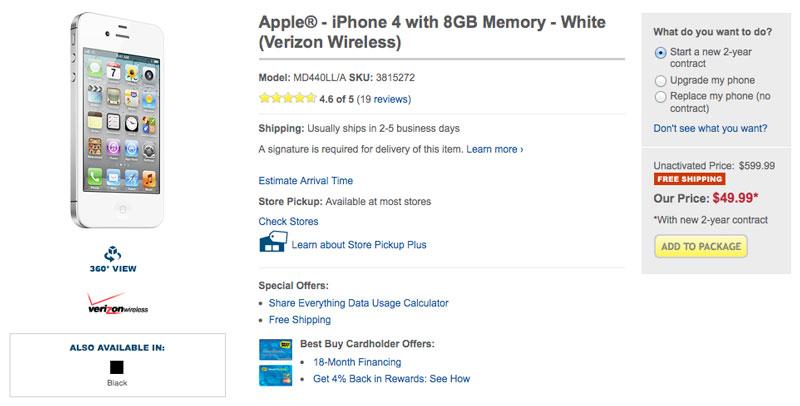 In what appears to be a permanent price drop, Best Buy is selling Apple's 8-gigabyte iPhone 4 for $49.99 with a new two-year contract.
The new price is half that of the regular $99 price for the iPhone 4 with a new service contract. Reseller Best Buy is offering the $49.99 upgrade price on both the GSM iPhone 4 model, compatible with AT&T, as well as the CDMA variants, available for both Verizon and Sprint.
Best Buy's website does not identify the new price as a temporary sale. The new price is the same that Best Buy charges for a refurbished iPhone 4, and the discount is available in both black and white models.
The price cut comes only days after Apple announced it sold 26 million iPhones in the June quarter, representing 28 percent growth over the same period a year prior. Investors viewed that number as disappointing, and AAPL stock took a hit as a result.
Apple executives said during their quarterly earnings conference call on Tuesday that they believe the growth slowdown, particularly with respect to iPhone sales, was at least somewhat attributable to rumors of new products. The company is widely expected to launch its next-generation iPhone with a slightly larger 4-inch display later this year.
The iPhone 4 was first released in mid-2010 and marked the debut of the high-resolution Retina display, as well as the forward-facing FaceTime camera. It is currently Apple's mid-range handset, resting between the newest model, the iPhone 4S, and the low-end iPhone 3GS, available for free with a two-year contract. Verizon and Sprint do not offer the iPhone 3GS, which means the iPhone 4 is Apple's entry-level handset with those two carriers.