iOS chief Scott Forstall to testify at Apple v. Samsung trial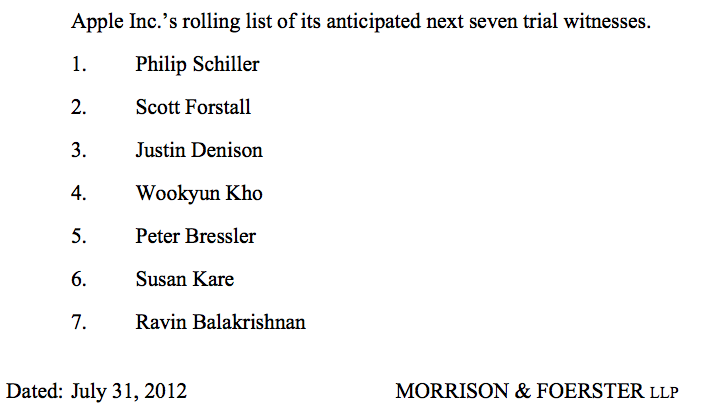 AppleInsider is supported by its audience and may earn commission as an Amazon Associate and affiliate partner on qualifying purchases. These affiliate partnerships do not influence our editorial content.
According to a court document filed on Tuesday, Apple Senior Vice President of iOS Software Scott Forstall will testify on behalf of the Cupertino company perhaps as soon as Friday, depending on the length of worldwide marketing exec Phil Schiller's testimony.
Apple's updated rolling witness list notes the iOS guru will take the stand immediately after Schiller whose testimony was cut short on Tuesday as the court session wrapped up. Samsung was previously informed that Forstall would be testifying sometime this week but the South Korean company didn't know the exact schedule.
The news comes two days after Apple filed its last witness list on July 29 which ended with: "In addition, Apple has notified Samsung that Scott Forstall will testify on Friday, and may testify before one or more of the above witnesses depending on schedule."
Schiller testified today, albeit for a short time before court adjourned, and said Apple doesn't rely on market research to rollout products. His testimony will kick off proceedings when the court meets again on Friday.
The Apple v. Samsung suit also brought a number of iPhone prototypes to light as Apple's first witness, industrial designer Chris Stringer, presented nearly 40 designs in pictures and physical models.

Source: Apple v. Samsung court filings
Also reshuffled on the most recent list are graphic designer Susan Kare, who worked on Macintosh interface elements and served as Creative Director at NeXT, and Ravin Balakrishnan, a professor of computer science at the University of Toronto who previously served in the case as an expert witness in support of Apple's motion for a preliminary injunction in 2011.
Judging by the testimonies given thus far, Forstall may speak as soon as Friday depending on when Apple attorneys finish with Schiller.