iPad gives Apple market-leading 19% share of PC shipments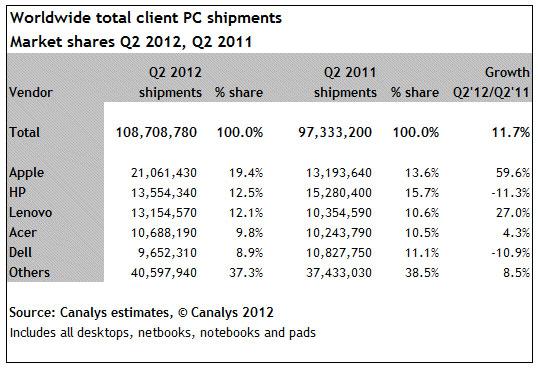 AppleInsider may earn an affiliate commission on purchases made through links on our site.
Combined Mac and iPad sales reached more than 21 million in the second quarter of 2012, giving Apple a 19.4 percent share of all PC shipments.
Apple's sales made it the No. 1 worldwide vendor of PCs, easily besting second-place HP, which held 12.5 percent of the market with shipments of 13.5 million PCs, according to Canalys. Apple also saw the most year-over-year growth among the top vendors, increasing sales of Macs and iPads by 59.6 percent from the second quarter of 2011, while HP's total sales slid 11.3 percent.
A year ago, Apple finished in second place behind HP, with 13.6 percent of the market on sales of 13.2 million iPads and Macs. But this year, Apple was the clear-cut winner, selling nearly 8 million more total PCs than HP.
"There is now a large base of replacement buyers that simply must have the latest Apple product, and the decision to continue shipping the iPad 2 at lower price points has opened up new customers, for example in education,"said Tom Evans, Canalys Research Analyst. "One drawback of the stand-out retina display in the new iPad, however, is the increased storage demanded by HD content. An upgrade, without a big price increase, is a must for the next generation of product."
Behind Apple in first and HP in second was third-place Lenovo, which shipped 13.2 million PCs and took 12.1 percent of the market. Lenovo's shipments were up 27 percent year over year, giving it the second-fastest growth in the PC market among the top five vendors.
In fourth was Acer, which shipped 10.7 million units, good for a 9.8 percent share and 4.3 percent year over year growth. Dell took fifth on shipments of 9.7 million PCs, giving it 8.9 percent of the market and a loss of 10.9 percent in unit sales year over year.
Overall, the PC market grew 11.7 percent year over year, with the top five driven by Apple and Lenovo, offsetting losses by HP and Dell.
"Reports that poor economic conditions and the wait for Windows 8 hurt the PC industry this quarter do not tell the whole story," Evans said. "The PC industry is performing well and 2012 is shaping up to be a record year. Vendors with innovative products will reap the rewards."