New photos claim to show finalized nano-SIM tray destined for iPhone 5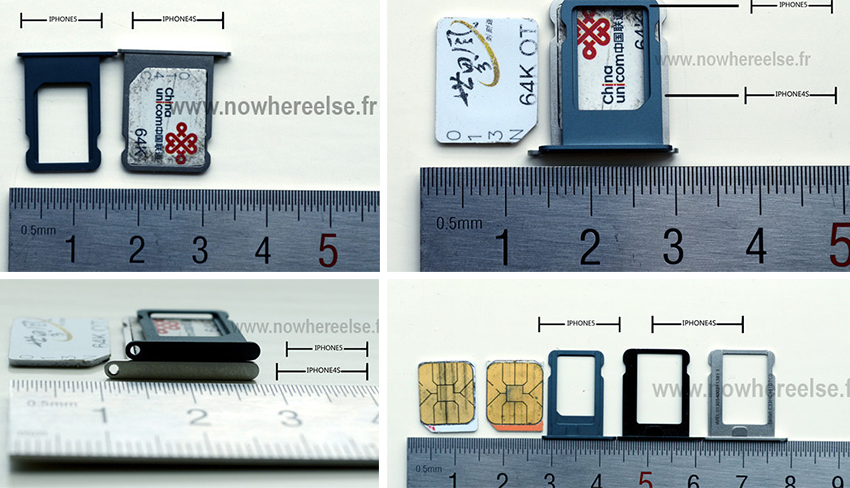 AppleInsider may earn an affiliate commission on purchases made through links on our site.
A new series of photos have surface online, claiming to confirmed much rumored plans by Apple to introduce a more compact "nano-SIM" standard alongside this year's iPhone aimed at helping the company designed more compact and streamlined iOS devices going forward.
The photos of the empty SIM tray, published over at Nowhereelse.fr, reveal a design that will command roughly 40 percent less internal space when compared to existing micro-SIM cards, which should allow smartphone makers like Apple to make smaller handsets with increased functionality.
Rumors of Apple's intentions to employ the more compact SIM standard gained steam back in March when it was reported that Apple was offering to license a new, ultra-compact SIM card technology to rival mobile devices makers at no cost if they agreed back the format as the new industry standard.
Sized roughly a third smaller than existing MicroSIM cards found inside current iPads and iPhones, the so-called nano-SIM design — which is also noticeably thinner than that of MicroSIM — was reportedly modified back in May to address objections on the part of rival handset maker Nokia.
The Finnish company claimed the design violated a "no jamming" rule because its length was too similar to the width of current-generation micro-SIMs. Apple responded in May by slightly adjusting the dimensions of card by adding a small amount of plastic around the edges of the electrical contacts, making the new nano-SIM just long enough so that it can't be forced lengthwise into an incompatible socket.
The European Telecommunications Standards Institute in June ultimately selected Apple's revised nano-SIM design as the official fourth form factor for the SIM card standard. Since then, European wireless operators have reportedly been stockpiling the new SIM cards in anticipation of Apple's upcoming iPhone launch, which is expected to make its first appearance during an Apple media event on September 12th.