Geekbench again leaks 13-inch Retina MacBook Pro scores, now with 8GB memory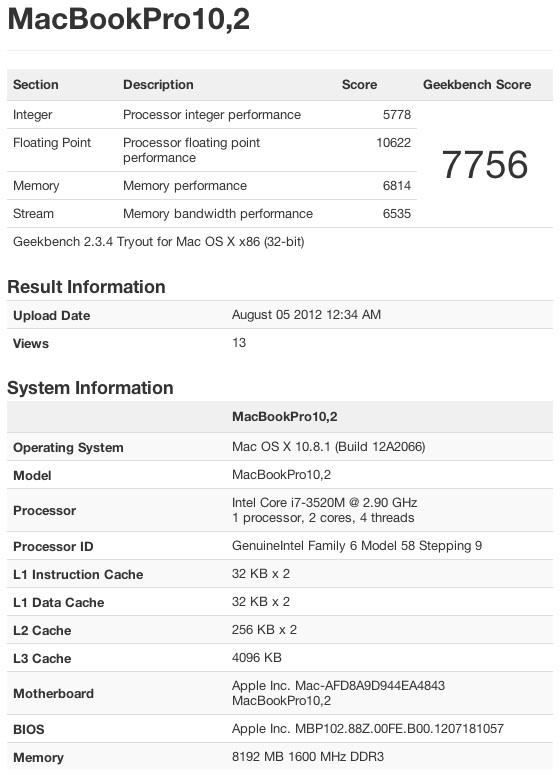 Following an earlier appearance of benchmarks scores for an unreleased iMac and a presumed 13-inch Retina display MacBook Pro (MacBookPro10,2) on the Geekbench website, a second MacBookPro10,2 score has surfaced this month to suggest the model wiill debut with 8GB of standard memory like its larger 15-inch cousins.
The profile of the machine accompanying the Geekbench scores includes the same Intel Core i7-3520M Ivy Bridge processor clocked at 2.9 gigahertz as the earlier sighting, but indicates the notebook was outfitted with 8GB of RAM and is running a newer, yet unreleased build of OS X Mountain Lion 10.8.1.
The "10,2" model designation makes it distinct from the existing 13 and 15-inch MacBook Pro 9,x models Apple released in June and instead associates it with the slim new 15-inch Retina Display model Apple internally designates as its "MacBook Pro 10,1" model.
Given that Apple canceled its 17 inch offering (apparently due to limited sales, as analyst Ming-Chi Kuo with KGI Securities correctly predicted in April), this would strongly suggest the new model will be the rumored 13 inch version of the Retina Display MacBook Pro.
The appearance of 8GB of RAM is also noteworthy because the new design of the Retina Display MacBook Pro solders its memory chips directly to the logic board (below, highlighted in green) rather than offering user-upgradable sockets. The previous appearance of this new 13 inch model only indicated 4GB of RAM.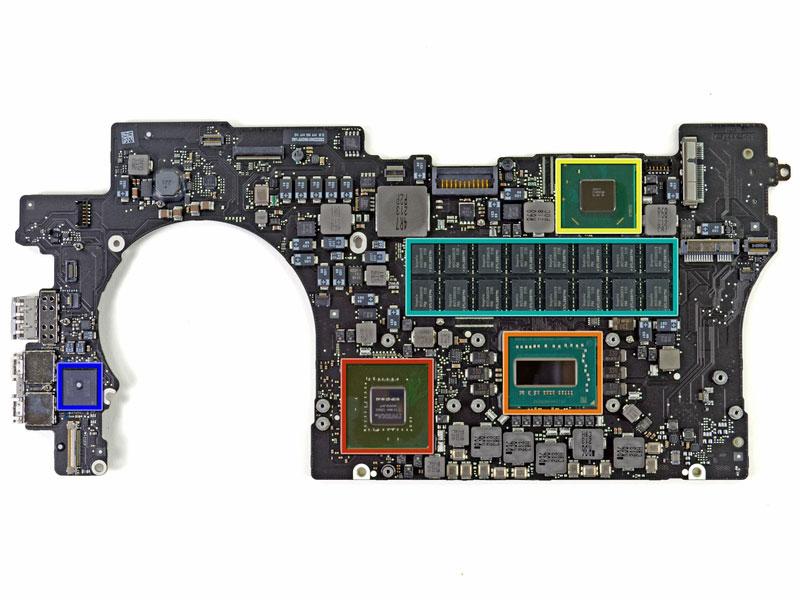 The unreleased new MacBook Pro model joins a new iMac and Mac Pro model designation that were recently discovered, with the new iMac similarly appearing in Geekbench results.
John Poole of Primate Labs, which developed the Geekbench software and maintains user submitted scores, told AppleInsider that a number of factors can be used to verify the credibility of benchmarks, including the OS version number, the processor model and its reported motherboard and BIOS strings, all of which appear to be legitimate on the new model.