Sprint offering $100 gift card with iPhone 4S purchase, Apple matches with store credit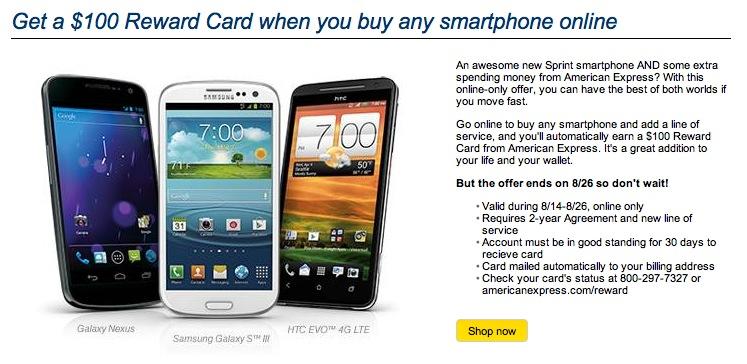 AppleInsider may earn an affiliate commission on purchases made through links on our site.
Sprint is now giving a $100 pre-paid gift card to new iPhone 4S buyers, and Business Insider has confirmed that Apple will be matching the deal by offering an Apple Store credit for the same amount.
The new incentive, the second in as many weeks from Sprint, comes ahead of an expected Sept. 12 launch of the next-generation iPhone and has prompted Apple to make good on its promise to match iPhone pricing from major resellers, Business Insider has learned.
Sprint last week slashed the price of Apple's iPhone 4S to $149 not including a $36 activation fee waiver, a move followed by other sellers including Target and Best Buy. Apple subsequently instructed its stores to match the discount prices being offered by the major retailers, limited to $49 for the iPhone 4 and $149 for the iPhone 4S.
With the new $100 American Express pre-paid card, $149 discount, activation fee waiver and free shipping, Sprint has effectively whittled down the cost of buying an iPhone 4S to $50. There are stipulations, however, as the added gift card bonus is online only and lasts until Aug. 26. It is unclear if Apple will continue to offer the store credits after Sprint's sale ends.