Foxconn makes strides in workplace conditions, takes 284 remedial actions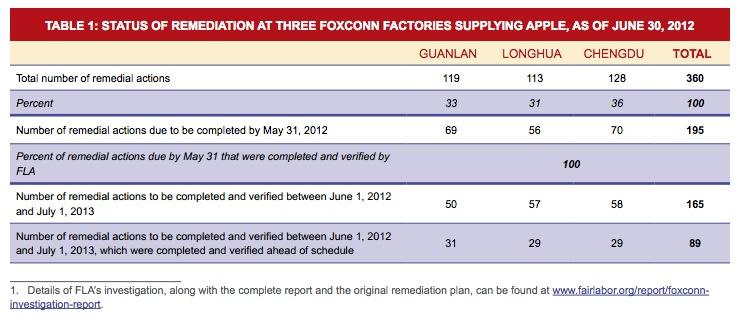 AppleInsider may earn an affiliate commission on purchases made through links on our site.
A report released on Tuesday from the Fair Labor Association says Apple manufacturing partner Foxconn has corrected some 284 infractions, including steps to create a safer workplace, since the group last audited the factories in February.
The FLA returned to Foxconn's three factories to audit the Taiwanese company, finding that some 295 previously noted infractions had been corrected as of June, with another 254 scheduled for completion by July 2013. The company in March promised to fix the violations found by FLA inspectors.
In the worker labor standards group's "Foxconn Verification Status Report" for August 2012 notes Foxconn succeeded in completing the 284 remedial actions by their May 31 due date. The company is also ahead of schedule on the remaining changes, having completed 89 as of June 30.
"A lot of companies are looking at Foxconn's progress with considerable interest and concern because they know how ambitious a target Foxconn has set," FLA president and CEO Auret van Heerden told Bloomberg. "It's not beyond the realm of possibility that a Samsung facility will come up" in a later inspection.
FLA's independent external verification process reviewed various documentation including policies, procedures, and time and payroll expenses. In addition, a visual inspection of the facilities was executed with worker and management interviews. During the group's audit of Foxconn's Guanlan, Longhua and Chengdu plants, management allowed full, unrestricted access to facilities and documents.
"We're getting tremendous cooperation from the union," Van Heerden said. "They're aware of the improvements they need to make to their election process."
Foxconn's remediation status as of June 30, 2012. | Source: Fair Labor Association
While the Chinese electronics manufacturer has taken great strides in meeting the FLA's terms, it still needs to work on compliance with Chinese labor laws regarding work hours. According to the FLA, these stipulations are among the most difficult to remedy. Foxconn employees are still subject to excessive overtime despite the company's commitment to meet the Chinese legal limit of 40 hours per week plus an average nine overtime hours.
"Continuing to cut overtime has been a key challenge, and we've made improvements there," Woo said. "There's an accepted practice and expectation across China, not just at Foxconn, that getting overtime is not an obligation but a privilege workers would actually like to have."
Foxconn has about 178,000 workers dedicated to making Apple devices, while another 1.3 million are building products for Sony, Hewlett-Packard and Cisco.