47% of US consumers feel they don't need 4G LTE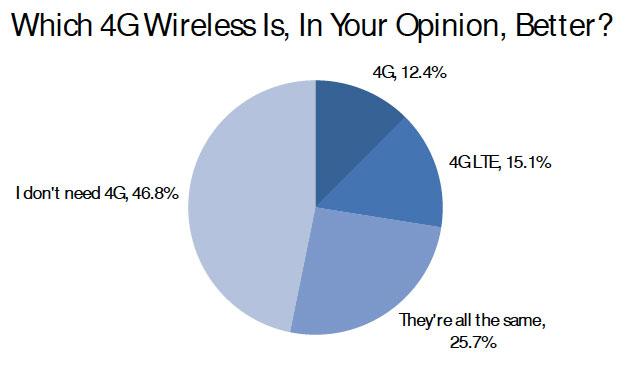 Though Apple's next iPhone is widely expected to have high-speed 4G long-term evolution connectivity, a new survey has found that nearly half of American consumers feel they don't need 4G LTE.
The details come from a survey of 3,000 individuals polled by investment firm Piper Jaffray. The results of the poll were revealed in a research note published Wednesday by analyst Christopher M. Larsen and shared with AppleInsider.
The survey found that 47 percent of consumers feel they don't need 4G LTE, and another 26 percent indicated they feel all 4G network technologies are the same. Just 15 percent of those polled said that 4G LTE is the best network technology.
Apple released its first 4G LTE device earlier this year with the debut of the third-generation iPad. That's helped to fuel expectations that Apple's next iPhone, frequently referred to as the "iPhone 5," will also feature 4G LTE connectivity, exceeding the 3G network technology found on previous iPhone models.
Piper Jaffray's survey also found that consumers are ambivalent about which U.S. carrier has the best 4G LTE network. Among those polled, 51 percent indicated they don't know who has the best 4G network, or that all 4G networks are the same.
Among consumers who do have an opinion on 4G LTE networks, Verizon was the clear winner. But Larsen said the general lack of opinion among consumers is good news for AT&T, Sprint and T-Mobile.
The poll also asked consumers about Apple's next iPhone, and found that 55 percent of those surveyed said they are considering purchasing it. Among those who may buy an iPhone, 44 percent said they will choose Verizon, 29 percent said AT&T, 14 percent were with Sprint, and 13 percent would opt for T-Mobile, which isn't currently one of Apple's U.S. carrier partners.
"With these results in hand, we expect Verizon to continue to gain market share of high-value smartphone (subscribers)," Larsen wrote. "Keep in mind, the iPhone carries a high subsidy, and therefore high initial sales have a short term negative impact on margins."