Image of purported next-gen iPhone USB cable shows smaller dock connector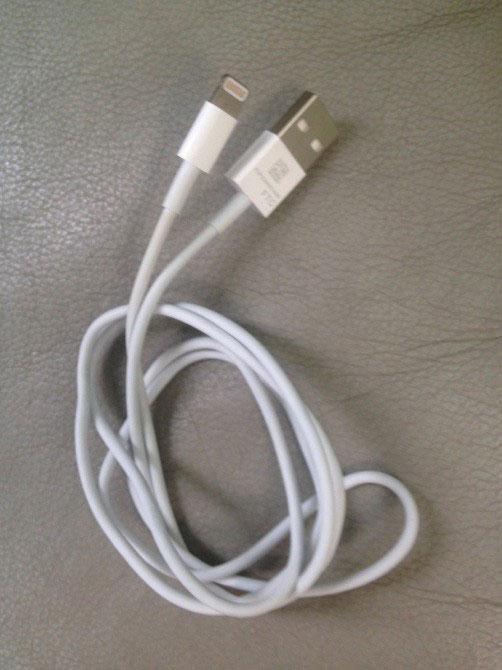 A new image has appeared online claiming to show a USB charge and sync cable for Apple's next iPhone, complete with a smaller dock connector that matches up with previous leaked components.
Cable maker Veister.com posted the image online on Wednesday (via iLounge), showing a traditional USB plug on one side, with a new, smaller dock connector on the other. Aside from the smaller dock connector, the cable appears similar to previous white Apple sync and charge cables.
The image matches up with a number of USB component parts that leaked earlier this month showing 8 contact pins on each side. But while the previous image showed only parts from the USB cable, Wednesday's leak purports to show the entire cable.
AppleInsider was first to report last week that Apple's new mini dock connector for its next iPhone is expected to feature a 9-pin, orientation-independent design — 8 gold pins that have been seen, plus the metal shell of the connector also serving as a functional contact.. Taking cues from its patented MagSafe adapters, the new plug is expected to work in two orientations.
The new mini dock connector will also take up about 60 percent less real estate than its predecessor, the legacy 30-pin dock connector that has been a staple of Apple's handheld devices since it debuted in the third-generation iPod classic nearly 10 years ago.
The cable is just the latest in a series of leaks claiming to show parts from Apple's anticipated next-generation iPhone. Most notably, a series of purported iPhone parts were put together earlier this week by a repair firm which found that the components fit together "perfectly," lending support to claims of their authenticity.
In addition to the new, smaller mini dock connector, the new iPhone is widely expected to have a slightly taller display that will measure 4 inches diagonally, but will have the same screen width as previous iPhone models. The new handset is also rumored to have a redesigned exterior that will see the headphone jack moved to the bottom of the device.
Apple is rumored to be planning a media event on Sept. 12 to announce its new iPhone, commonly referred to by the media and public as the "iPhone 5." It's likely that the device will launch the following week, on Friday, Sept. 21, which is now less than a month away.