Apple, Samsung portray different visions of the future given jury's decision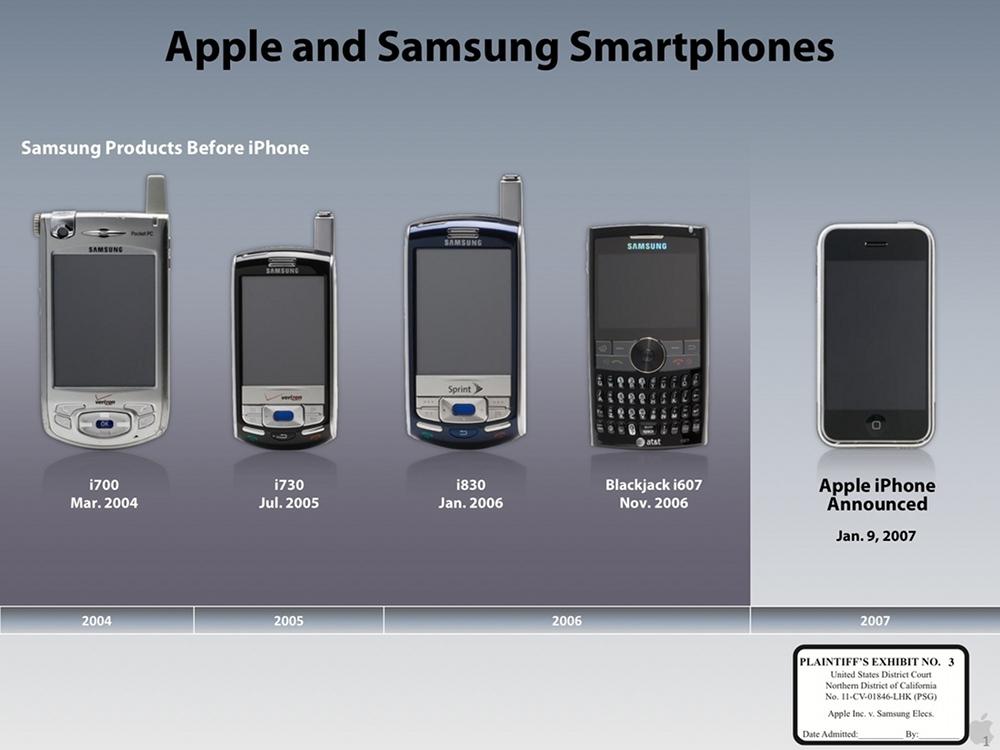 AppleInsider is supported by its audience and may earn commission as an Amazon Associate and affiliate partner on qualifying purchases. These affiliate partnerships do not influence our editorial content.
After a month of presenting the jury with their respective cases, attorneys for Apple and Samsung spent their final allotted minutes in closing arguments this week, each warning that jury's decision will have far reaching consequences on the future of the American tech industry.
While one of the most closely watched patent infringement cases, the U.S. Federal District Court case between Apple and Samsung has only resulted in a slow trickle of new revelations over the past several weeks, largely dealing with detailed aspects of the wording and legal meaning of terminology related to patents and trade dress.
Additionally, for every internal document and expert witness Apple presented to bolster its case that Samsung intentionally copied its designs and concepts, Samsung presented its own witnesses and cross examinations that called into question whether its copying was even a bad thing, or whether Apple's patents were even valid and enforceable.
The weeks-long trial finally wrapped up on Tuesday, and only after Judge Lucy Koh read aloud scores of pages of detailed jury instructions for over one and a half hours, with few breaks. The instructions detailed what the jury could and couldn't not consider as evidence in making their complex series of decisions about who infringed what, and what damages should be awarded.
Apple focuses on the chronology of historical documents
Faced with trying to make its series of expert witnesses and documents memorable, clear and understandable to the jury, Apple's attorney Harold McElhinny began his closing arguments saying "this is my opportunity to remind you of all the evidence you've heard, and put it into context."
As the first of three "big points," McElhinny stated that "documents are the most valuable key in the truth-finding function," adding that "historical documents are almost always where the truth lies," as opposed to the recollections of witnesses.
McElhinny then stressed the chronology of documented events, painting a clear picture for the jury that began in 2003 when Steve Jobs started the iPhone development project. He referenced the testimony of Apple's industrial designer Chris Stringer and iOS head Scott Forstall in designing various prototypes at Apple, and the "enormous risks" marketing head Phil Schiller said Apple took to launch the iPhone within the entrenched market for cell phones.
McElhinny then contrasted Samsung's own phone efforts from 2004 through 2010. Midway through this period, he noted, Jobs "shocked the phone world" with the iPhone, which was immediately regarded by many prominent sources as the "invention of the year" in 2007.
Then, in September of 2007, Samsung's System LSI subsidiary (which builds chips, and is distinct and removed from the company's phone development operations) began an historically documented "iPhone effect analysis," describing the iPhone as having both an easy and intuitive user interface and a "beautiful design."
McElhinny noted that the System LSI group had access to Apple's confidential semiconductor orders, but wasn't in charge of designing or building Samsung's phones (a separate group that was not supposed to have access to Apple's confidential chip business with System LSI), raising the question of why System LSI was interested in the iPhone's "beautiful design," and why it was creating competitive analysis documents that detailed the new phone's reception as "revolutionary" by critics, detailed end users' "expressions of love and awe" for the "sexy" device, and observed how the "hardware portion" would offer "easy imitation."
The historical observations written into the System LSI document, McElhinny said, describe "features Samsung will [now] tell you are obvious and not novel." Additionally, back in 2007 the System LSI document's depiction of iPhone features "never said it was dictated by function" as the company is now claiming, emphasizing Apple's argument that historical documents are more reliable that what Samsung is now arguing after the fact.
Apple's portrait of Samsung as a knockoff artist
Having established discrepancies between Samsung's internal historical documents and its current statements, McElhinny then described a post-iPhone history of Samsung's phone development.
McElhinny first stated that Samsung was "trying to compete fairly" against the iPhone from 2007 to 2010, depicting a variety of phones from that period which looked more like RIM's Blackberry and the Palm Treo.
He then noted that this wasn't working for Samsung, noting another historical internal document from a 2010 high level meeting at the company, which described what Samsung called its "crisis of design," along with the realization that it had fallen so far behind that the difference between between it and Apple's iPhone was "heaven and earth."
Rather than describing an incremental increase in similarity between Samsung's products and Apple's iPhone, McElhinny outlined a brief, three month effort by Samsung to deliver "something like the iPhone," which is what mobile carriers were asking it to create.
Two weeks in to the effort, Google was documented to have "demanded Samsung to change the design of Galaxy S phones" because they were too similar to Apple's. But Samsung continued, McElhinny noted, tying in testimony from Samsung's own designer speaking of the hardship to work night and day to finish the Galaxy project as part of a "three month effort."
On page 2 of 4: Apple ties Samsung's turnaround to 3 months of intense copying
Apple ties Samsung's turnaround to 3 months of intense copying
"Samsung copied Apple's four years of work without taking any of the risks," McElhinny stated, direction attention to another internal document from March 2010 that presented 100 pages of "detailed instructions of what to copy," several of which were Apple's patented features, including its double tap to zoom utility patent and a icons with a 3D lighting effect.
As a result, "Samsung's smartphone sales steadily began climbing," and the company "began releasing a series of models copying iPhone."
In August 2010, Apple called Samsung executives to a meeting, informed them of the alleged infringements and asked them to stop. In response, McElhinny says Samsung "ginned up" patent infringement claims of its own.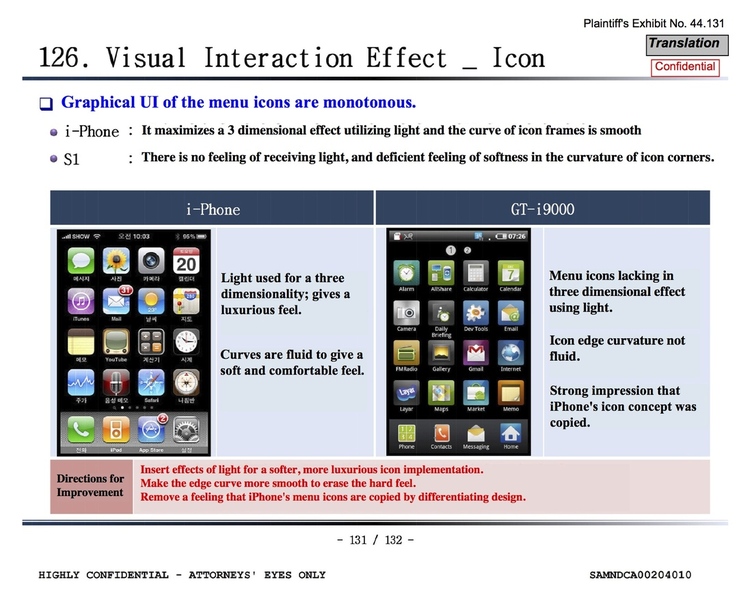 McElhinny then charged that Samsung has subsequently "disrespected this process," refusing to bring any high level executives or important designers or inventors to testify and face cross examination under oath the way Schiller and Forstall had.
"Samsung did not bring a single witness who admitted seeing any of the copying documents," McElhinny said, noting the testimony of Samsung's chief strategy officer Justin Denison, industrial designer Jin Soo Kim and icon designer Jeeyuen Wang, all of whom disavowed having copied Apple's designs.
However, Wang had a copy of Apple's Human Interface Guidelines for iOS, and McElhinny pointed out that Google had informed Samsung's senior executives that its tablet design were "problematic," meaning that they had either "not bothered to tell" Kim, or that his testimony was not accurate.
Having wrapped up his chronological portrait of Samsung's top executives making a clear and directed effort to copy Apple's work in a three month period, and noting how this low-risk copying effort had quickly turned the company's fortunes around. Samsung's sales "took off after the first iPhone-derived product was added to the mix" in June 2010, McElhinny stated.
Apple's outlines its design patents
Having outlined its case of why, when and how Samsung copied, Apple's legal team then focused on what: specifics of the design patents, trade dress, and utility patents that Apple maintains that its largest supplier willingly infringed upon.
Design patents are Apple's strongest ammunition because if it can prove infringement, it can demand full payback of all of Samsung's related profits a number Apple estimates to be north of $2 billion, rather just damages or royalties, which would amount to millions of dollars (notably, less than the cost of the trial).
For infringement of design patents, Apple pointed out, accused products only need to be "substantially the same." McElhinny noted Judge Koh's jury instructions that stipulate "minor differences should not excuse infringement," and that infringement of design patents is a "resemblance designed to deceive an observer."
"No Samsung witness was called to refute similarity in design patents," McElhinny stated, adding that the company only "called attention to minor differences instead," such as differences in corner radii that can only be noted with precision calipers, the feel of a glass edge or the use of two different materials on the back of a tablet instead of the iPad's one.
While Samsung now claims Apple's patented designs are obvious and the simple result of functional necessity, the company didn't offer any evidence of obviousness, McElhinny stated, and contended that historically, the iPhone and iPad were both greeted with "initial skepticism, acclaim, commercial success and then copying," arguing for its novelty.
"Every smartphone does not have to look like an iPhone," McElhinny charged, depicting a variety of devices that are substantially different, including Nokia's Windows Phone.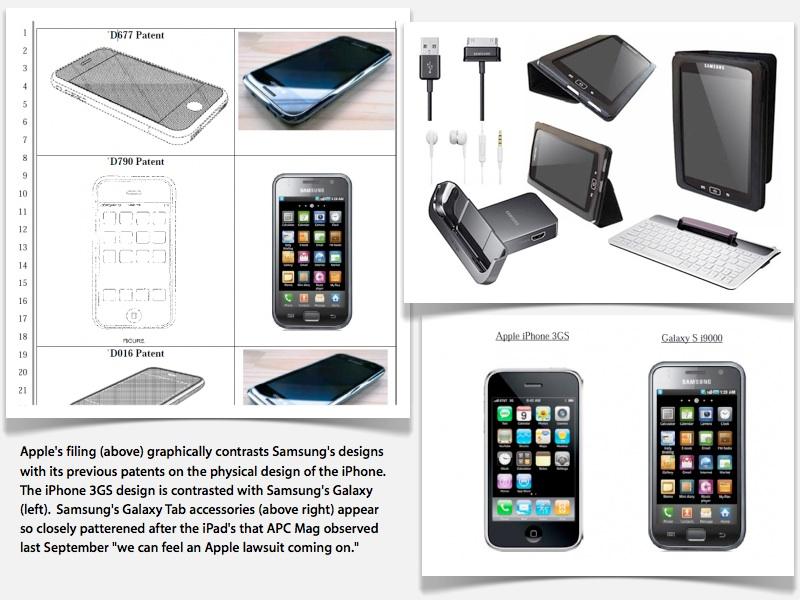 Apple case for trade dress dilution and utility patents
In addition to design patents, Apple is also asserting both registered and unregistered trade dress rights, which are distinguished from design patents as a form of intellectual property, McElhinny noted. Trade dress claims have differing legal tests than patents he explained, defining trade dress as "non functional physical detail that identifies the product source and distinguishes it from others."
Trade dress claims are only protectable if they are non-functional and non-essential in nature "when taken as a whole" and convey secondary meaning to buyers (primarily, who makes it). Infringement of trade dress is defined in the case "if likely to cause consumers to be confused about the source."
McElhinny not only presented point-of-sale confusion (which Apple's team supported with comments that BestBuy had seen returns from Galaxy Tab buyers who thought they were getting an iPad equivalent) but also raised testimony from Schiller, who had commented on confusion in TV and billboard advertising.
Samsung's trade dress dilution, McElhinny charged, took something famous and caused it to look less distinctive. Samsung "led the way" and others have followed it, he noted, diluting what was at the time Apple's "world famous designs."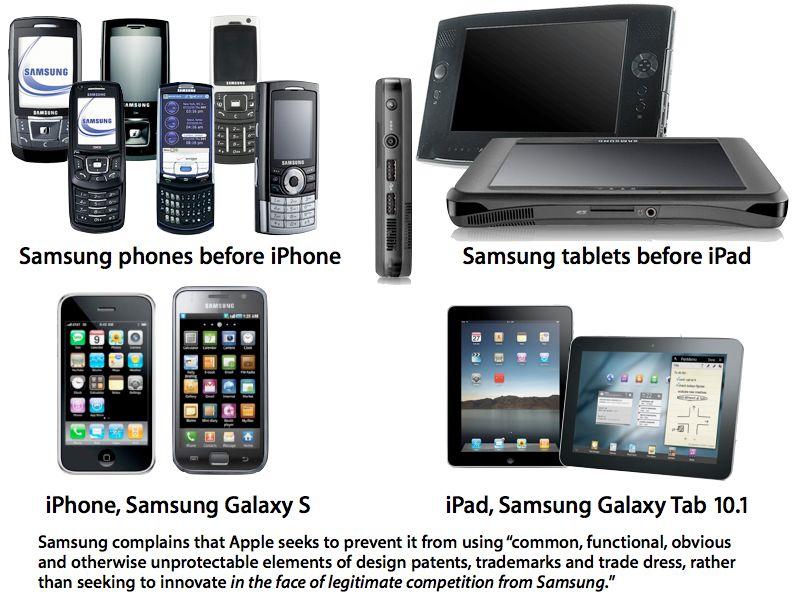 Emphasizing this, McElhinny recalled Denison's testimony that Samsung had spent $1 billion on marketing its products in US, "mimicking our designs."
McElhinny next added Samsung was "also busy copying user interface," including infringement of Apple's "bounce" and "double click to zoom," which he said expert witnesses has verified in Samsung's source code. Rather than presenting a defense of patent infringement, Samsung instead claims each Apple patent to be invalid.
However, the prior art Samsung presented failed to demonstrate all of the elements in Apple's patents as a whole, McElhinny said. He noted Mitsubishi's Diamond Touch (cited as click to zoom prior art) lacked a touchscreen and other elements in Apple's patent, while a Launch Tile app (cited as prior art in the bounce patent) "doesn't do anything in response to the end of the document being reached."
On page 3 of 4: Apple defends billions in damages
Apple defends billions in damages
"Samsung makes fun of us for asking for billions," McElhinny stated, but noted that the company sold 22.7 infringing products between June 2010 and today, and generated $8.160 billion in revenue. Apple's expert calculated that Samsung directly profited $2.4 billion from the sale of its accused devices.
Apple can only make demands for Samsung's profits if the jury finds that its design patents were infringed. Otherwise, Apple is left with lost profits of $488 million in "missing sales."
McElhinny said Apple had capacity to make an additional two million sales even in periods of high demand and supply constraints. He also noted that company was "careful not to double count damages," and that the jury will have to determine what damages are paid in each of three buckets: Samsung's profits, Apple's $488 million in lost profits and $20 million in "reasonable royalties" on the use of Apple's patents.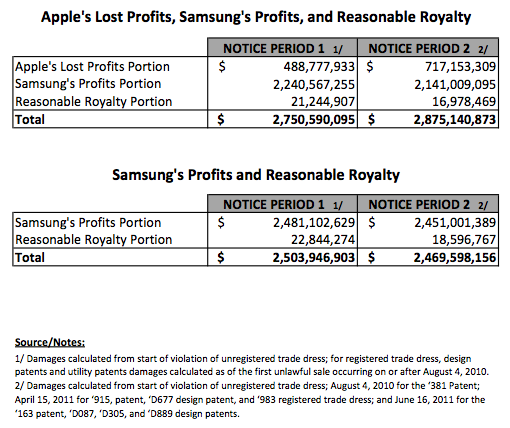 Samsung argues it did not deceive the public in copying, warns damages will stifle competition
Rather than addressing what happened in the past, Samsung's attorney Charles Verhoeven focused on the future, insisting that Apple didn't present convincing evidence that Samsung had deceived customers in copying Apple's patented designs "because there isn't any."
Verhoeven said Apple is only "stopping its largest competitors from giving customers what they want: smartphones with big screens," and argued that "Apple's seeking a competitive edge through the court," describing the outcome of the case as potentially changing "the way competition works in this country," exchanging "vigorous competition between competitors" with deals involving patent portfolios.
Verhoeven appealed to the jury in saying "consumers deserve a choice between a lot of different products," and noted "is not against the law to be inspired by your competitors," and "it is not against the law to benchmark and ask 'how can we do better?'"
He argued that HDTVs on display in big box retailers today "all look the same" and lack the knobs and buttons of older televisions because "form followed function," creating a parallel between that and the smartphone design introduced by Apple's iPhone.
Verhoeven added that users initially wanted a full keyboard like RIM's once Blackberry, which was "extremely successful" and subsequently, "everyone came out with full keyboard mobile phone."
Now, users all want a smartphone that is a phone, a computer, capable of playing video games and "you can talk to you family on FaceTime," all features that dictate "a large rectangular shape."
There is "nothing nefarious about this" Verhoeven stated, adding that it is simply "how smartphones evolved." In contrast, Apple is "interpreting its patents to say" that it is "entitled to a monopoly on rounded rectangles," Verhoeven stated, echoing the definition of a design patent.
Samsung: no evidence of confusion
Verhoeven then cited a "paid expert on Apple's side" as being questioned "if anyone is confused or deceived if they are buying an Apple phone," and stating he didn't know if consumers were confused.
"You'd think," Verhoeven stated, "if people were buying a two year contract, they'd know what they were buying," redefining the legal test of infringement from intentional confusion and dilution by a vendor to the complete unawareness of brand names by end users.
Verhoeven then ran through a series of differences between Samsung's accused devices and Apple's design patents and pictures of the iPhone or iPad, noting that corner radii are not exactly the same, that there was a slight edge on the front face of some phones, that the speaker opening is not centered vertically on the bezel. and that the Galaxy Tab had two materials on its back, and was black, not shiny, polished or translucent as described in Apple's iPad patent.
As for Apple's user interface design infringement claims, Verhoeven stepped through the process of turning on an Android-based Samsung phone, noting that the user would have to power it on, watch a "droid" animation and unlock the screen, all before touching the apps button to arrive at the screen Apple says is an infringing copy of the iOS Home menu.
Verhoeven then repeated the same steps on the Galaxy Tab, apparently to suggest that entering the accused apps screen was a laborious and hidden path few users would ever come across, let alone associate with Apple's products. Essentially, Samsung is arguing that copying isn't illegal and Apple can't be awarded any damages unless there is documented confusion by buyers, which he says Apple did not sufficiently produce.
On page 4 of 4: Samsung: Apple is trying to confuse you
Samsung: Apple is trying to confuse you
Verhoeven's next major point was that Apple made an "intentional attempt to mislead the jury," by presenting a timeline that indicated Samsung had never developed phones that looked significantly like the iPhone until its "crisis of design" meeting in 2010.
He presented a graphic showing a series of Samsung's internal mockups and charged that Apple "pretended they didn't exist."
"They're trying to confuse you," Verhoeven repeated, noting the Galaxy 7 Apple referenced "is not even an accused product (in this case)."
Verhoeven also dismissed the evidence that Samsung's System LSI division had used confidential knowledge of Apple's business to construct a competitive strategy against the iPhone maker by saying, that "Samsung is a large company with many divisions" and that the document "isn't even from the design or phone divisions."
Apple was "mixing and matching from a completely different part of the company, and saying that's copying by the phone division," Verhoeven stated, representing System LSI as Samsung's semiconductor division that sells chips to other vendors while implying Samsung's phone division isn't an important one.
Verhoeven then briefly recapped Apple's patent claims, generalizing that "there is no bad intent, is no copying," specifically mentioning that in regards to the bounce patent, Apple presented a lack of evidence. "That doesn't infringe," he said, before clarifying, "there isn't necessarily infringement."
Samsung's own patent case yields to a discussion of damages
Verhoeven nearly skipped Samsung's own patent claims entirely in his closing arguments, noting "I don't have time to go through all that with you."
Instead, Verhoeven focused on the damages Apple was seeking, noting first, "we don't think Samsung should pay any damages, we don't think they're liable," before adding, "if you don't agree with us, we need to explain that Apple's demands are ridiculous."
Verhoeven reiterated the idea he had already repeated several times that Apple's claims was too high, incredulously asking, "$2.75 billion? Really?"
Verhoeven cited Terry Musika, Apple's expert witness who testified about his calculations of Samsung's profits on accused devices, referring to the $1.1 million cost of arriving at those nubmers as "how much he was paid for his opinion" on total Samsung's profits.
Verhoeven also took issue with the idea that Samsung's copied features played a significant role in attracting potential iPhone buyers, "just because of bounce back," arguing that only 1 percent of users said they bought a particular smartphone due to specific features.
In closing, Verhoeven contrasted what he called "Samsung's standards essential 'hard core' patents," with what he argued were Apple's less valuable design patents and the huge profit penalty they could demand.
Regarding the awarding of damages to Apple, Verhoeven concluded, "we hope you never get there, but if you do, you got to use your common sense."
Apple's rebuttal: Make your own phones. Compete on your own innovations
Following Verhoeven's initial closing arguments, Apple presented William Lee, who noted "I've been doing this for 37 years" and "I've heard 'ridiculous' and 'misleading' more times in this trial," he said, "than at any other point in my career."
Lee told the jury "make your own judgement on who shot straight," stating that if you have a weak case, you "attack the other clients, attack the witnesses, and attack the other lawyers. And that's what Samsung has done."
Rather than trying to stop Samsung from selling smartphones, as Verhoeven suggested, Lee said Apple just wants other companies to "make your own phones. Compete on your own innovations."
While Verhoeven argued that litigation and patents would end competition, Lee said Samsung's attorneys were "trying to frighten America," and argued that IP laws protect investment.
Responding to Verhoeven's comment that open competition had resulted in the prosperity of Silicon Valley, Lee pointed out that "all of the technology in Silicon Valley is protected by patents."
Lee said the American patent system is necessary to "protect our investment in innovations, adding, "Because if we don't, we won't have people like Apple spending five years in a room coming up with a phone that revolutionizes the world."
Apple belittles Samsung's outrage over billions in damages
"How many times have you heard him talk about $2.7 billion?" Lee asked the jury. " They copied us and made $8 billion in revenue. Now they don't want to pay a penny. Do they get a get out of jail card for free?"
Lee said Samsung's graphic depicting its pre-iPhone mockups "is not a historical document, it's what lawyers made," adding, "if Samsung had all this, why was there a 'crisis of design'? A 'difference between heaven and earth'?"
Lee repeated the chronology theme raised earlier by McElhinny, saying, "Apple took five years to bring this revolution, Samsung took three months to copy it."
Apple assails Samsung's "dusted off" patent claims
Lee then noted that Samsung's Verhoeven "devoted about 5 minutes [in his closing arguments] to Samsung's patent infringement claims. They never said a word about these patents until Apple said they were copying."
Lee then reiterated, "Samsung tried to compete with its own designs, between 2007-2009" but in 2010 "had a 'crisis of design' and did something in three months."
He added, "All the business it was getting from Apple was critically important," so Samsung decided to "fly under the radar so it could ambush its partner with a knockoff phone," and then "dusted off these patents," which Lee said "describe old technology that Apple doesn't use, and not even what Samsung uses."
Lee accused Samsung of intentionally breaking the rules of the 3G standards body in not declaring its patents as required until the standard was set, and cited testimony from a Samsung engineer saying that "playing by the rules would be stupid," but Lee said this is "not the way our system works."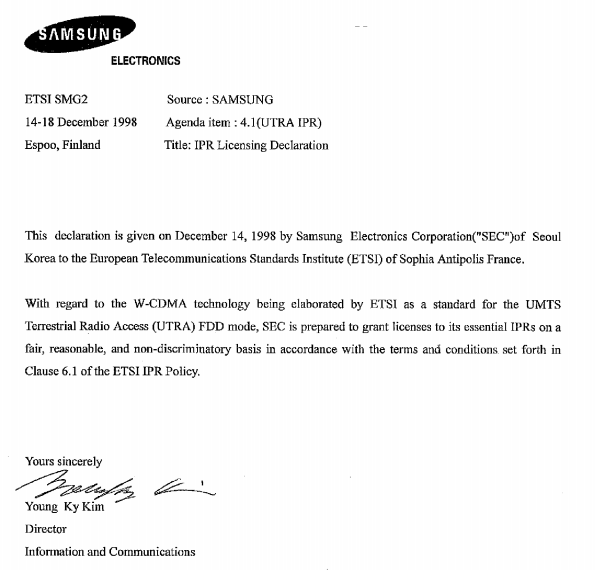 "They're asking you to decide Apple infringed, while [Samsung's] patent inventor doesn't even know what it does," Lee charged, adding that in "100 pages of side by side comparisons," with Apple's devices, Samsung "didn't ask inventors of their own patents," for help in solving the 2010 'crisis in design.'
Lee also challenged Verhoeven's comment that Apple paid its damages expert $1.1 million "for his opinion" on Samsung's profits, noting that Samsung paid one of its witnesses a million dollars just for his time to appear.
Lee also took issue with Samsung "double dipping" in patent exhaustion by claiming infringement by Apple on the use of Samsung's previously licensed chips from Intel, and said Samsung's argument that its 2.4 percent royalty demand for standards essential were Fair Reasonable and Non Discriminatory
(FRAND) were not FRAND at all because Samsung "has never been paid a penny for any of its standards essential patents."
Apple argues for the rule of law
Samsung "can't come in and walk all over our antitrust laws and lie to standards organizations" Lee insisted, saying that while Samsung has charged that the case is "all about competition," and that "Apple's trying to own the color green and the Ma Bell phone icon," the trial is really about the fact that "Apple wants to compete fairly and squarely with innovation and products."
With six minutes left on Apple's clock Lee handed off closing arguments to McElhinny, who implored the jury "don't let someone take $8 billion from us," and asked them to "upend Samsung's cynical strategy of copying other people's stuff" by taking the profits away from them. The jury's choices will "determine the rules of competition for a long time in this country," affecting the "people who make investments and follow the rules."
McElhinny added that the jury isn't just deciding who wins most of the case between Samsung and Apple, but that "Samsung wins if you compromise on damages," reiterating that the company that "spent $1 billion in advertising" will "not change their way of operating if you slap them on the wrist."
Samsung's rebuttal: nothing illegal happened, let us continue to compete freely
Returning to rebut Apple's arguments with just 14 minutes on the clock, Verhoeven argued that there was "no evidence Samsung engineers intentionally deceived standards bodies," saying that during the standards process, "you don't know if your [patent] applications will be granted, you don't know if it will be essential."
Verhoeven also took issue with Apple's argument that its use of Intel chips made Samsung's patent allegations a case of "double dipping" in patent exhaustion. Because Intel's chips were designed in Germany and build into Apple's products in China, the transaction between Intel and Apple was not American, despite the invoices Apple presented between it and its nearby Silicon Valley neighbor Intel.
"Let's let Samsung compete freely in the market place," Verhoeven said in conclusion.
The jury is now considering the weeks of evidence they were presented in the trial, and must arrive at a consensus over which devices infringe which patents, and the amount of damages each party should be awarded.