Apple's patent win could lead to profitable royalty stream from Android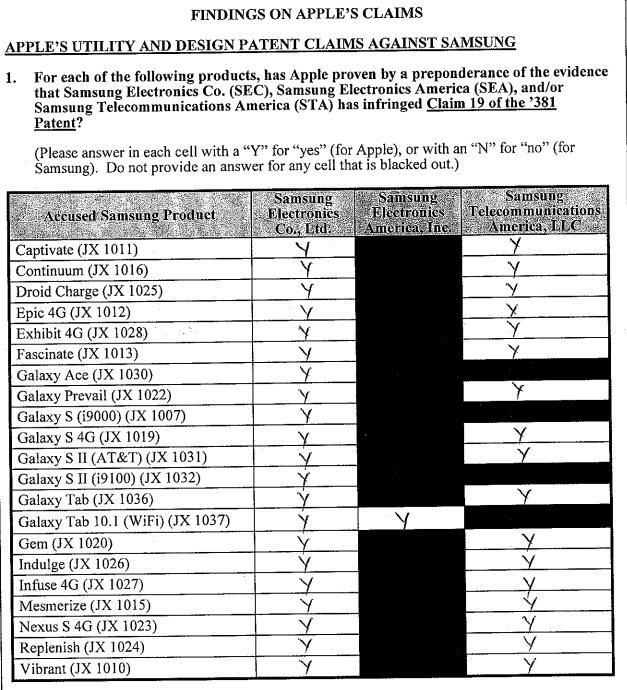 AppleInsider is supported by its audience and may earn commission as an Amazon Associate and affiliate partner on qualifying purchases. These affiliate partnerships do not influence our editorial content.
Apple's patent victory over Samsung could set the stage for a lucrative source of profit for the world's largest company.
Analysts on Wall Street reacted positively to the news that Apple had won its lawsuit against Samsung, proving to a jury that its rival had committed patent infringement. But though Apple was awarded over a billion dollars by the jury, market watchers believe the courtroom win could have ripple effects throughout the smartphone industry that would be in Apple's favor.
Maynard Um with Wells Fargo Securities said in a note to investors on Monday that he believes the royalty revenue stream for Apple as a result of the ruling could be "highly profitable." Apple must still win appeals from Samsung, and would need to be willing to settle future disputes.
Apple calculated that Samsung owed it $250 million in 2010, on estimated sales of 25 million smartphones in 2 million tablets. This year, Samsung sold an estimated 50 million handsets in the second quarter alone, which would result in even greater royalties.
Um estimates that every $250 million in royalty revenue to Apple equals about 20 cents in earnings per share. He has raised his price target range for AAPL stock to between $740 and $760, up from a previous prediction of $640 to $660.
Though the jury awarded Apple $1.05 billion in damages, the final amount could be higher, noted analyst Amit Daryanani with RBC Capital Markets. The number decided upon by the jury is a minimum total, and the eventual award could be greater based on the judge's decision.

Sample of the jury's completed 20-page verdict form. | Source: Apple v. Samsung court documents
Beyond Samsung, Daryanani believes the ruling could create more challenges for other smartphone makers who use Google's Android mobile operating system. He believes the decision could prompt both carriers and customers to be apprehensive about using products from Android-based handset makers.
Chris Whitmore of Deutsche Bank said Apple's win was a "major victory" for the iPhone maker. He believes it will either limit Samsung's distribution in the U.S. or handicap its smartphone feature set.
Like Um, Whitmore also believes that Apple could collect a "significant licensing fee" from Samsung for the sale of smartphones.
And Michael Walkley of Canaccord Genuity believes the verdict could lead Samsung to delay near-term product launches, in an effort to design around the patents it has been found guilty of infringing.
"We also believe other Android OEMs, such as HTC, Sony, and LG, will review this patent verdict and potentially alter and delay planned Android smartphones and tablets," he wrote in a note to investors Monday.
While other analysts were quick to forecast their positive outlooks for Apple, Gene Munster with Piper Jaffray pumped the brakes a bit. In his reaction, he told investors that the ruling is "unlikely to meaningfully change" the competitive landscape in the smartphone market.
"We expect Samsung to continue to offer competitive phones to the iPhone in the U.S. and other markets," Munster wrote. " We believe what will truly decide the winners in the smartphone market will be individual hardware and software offerings that excite consumers, and we expect both Apple and Samsung to continue to deliver those experiences regardless of this particular court decision."
However, he does believe that the decision will make it more likely that other lawsuits between Apple and handset makers will move toward settlements. In those settlements, he believes software changes will be the most likely competitive outcome, though money will also likely be exchanged.
"We do not believe further settlements are likely to hamstring Android in any serious way," Munster wrote.