T-Mobile reportedly preparing to sell 'against the iPhone' on Sept. 21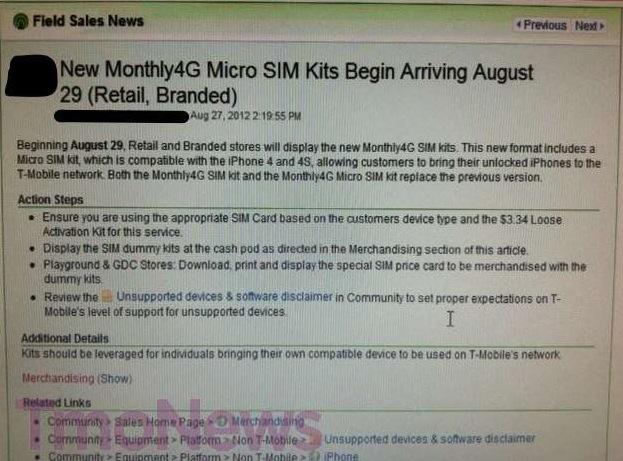 AppleInsider is supported by its audience and may earn commission as an Amazon Associate and affiliate partner on qualifying purchases. These affiliate partnerships do not influence our editorial content.
In an allegedly leaked internal memo discovered on Monday, U.S. wireless carrier T-Mobile notified employees to begin "selling against the iPhone" starting Sept. 21, the date which Apple is widely expected to roll out its next-generation handset.
Obtained by website TmoNews.com (via Engadget), the supposedly leaked memo could mean T-Mobile will once again be left out as an iPhone carrier if the handset is in fact released on Sept. 21.
In the memo to employees, the company notes staff will be receiving training material regarding "selling against the iPhone" as well as updated micro-SIM kits purportedly slated for use in unlocked iPhones. The Monthly4G packages support iPhone 4 and iPhone 4S models and will possibly be used on T-Mobile's recently refarmed 3G network.
The carrier announced in January that it would be offering coverage for subscribers with unlocked iPhones, and went as far as to initiate a support program for its roughly one million customers who use Apple's device.
As for the materials regarding an attempt to sell against the Apple handset, T-Mobile is no stranger to iPhone launches and the damage it can do to a network's subscribership. The company in February claimed that it lost some 700,000 contract customers due to the iPhone 4S launch in 2011.
T-Mobile is the last major U.S. wireless company to be without Apple's popular device, as Sprint joined AT&T and Verizon in selling the smartphone last year. Even smaller regional operators like C-Spire have been added to the list of iPhone-carrying networks.
Apple is expected to debut the sixth-generation iPhone at an as-yet-unannounced special event on Sept. 12, with a U.S. rollout following on Sept. 21.