Notification in iOS 6 beta hints at iBooks for Apple TV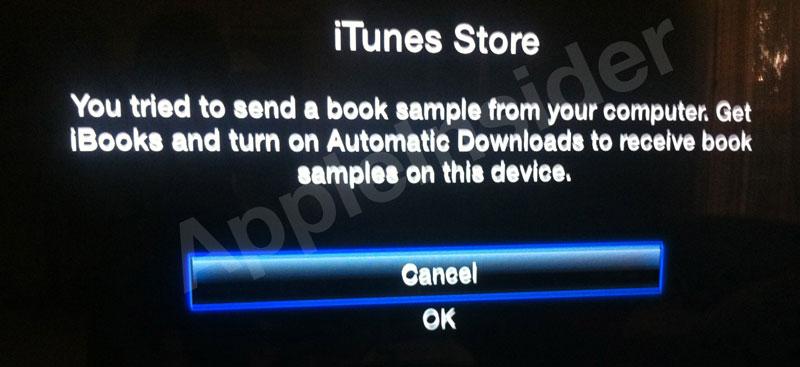 An error message displayed in the latest beta of iOS 6 for Apple TV suggests that support for iBooks may be coming to Apple's set-top box.
After downloading an e-book from Apple's iBookstore, an Apple TV tied to the same iTunes account will present users with a notification discovered by AppleInsider. The prompt tells the user that the Apple TV attempted to automatically download the iBooks content, but it could not be accessed because the device does not have the necessary software installed.
Other iOS devices, including the iPhone and iPad, will also receive a similar error message from iTunes. But those devices have access to the App Store and can download the iBooks application for automatic downloads of content, while the Apple TV cannot.
The potential use of iBooks on the Apple TV would be limited, as most users would not likely be interested in reading e-books from afar. In addition, Apple does not yet offer a version of iBooks for Mac, a platform that seems more likely to gain support for Apple's e-book service.
However, iBooks on the Apple TV could be related to textbooks in the classroom, allowing teachers to enhance their lectures by displaying interactive content from digital textbooks on a big-screen TV. Textbooks could hypothetically be written with dual-screen use in mind, allowing a teacher to wirelessly stream content to the Apple TV via AirPlay.
As iOS 6 is still a pre-release beta, also it's possible that the error message is simply a glitch with the software.
Apple has gradually added new applications and features to the Apple TV through software updates, such as Hulu Plus in July, but the $99 streaming device does not have its own App Store and third-party developers cannot write their own applications for it. There have been rumors over the years that the Apple TV would gain access to the iOS App Store, but those suggestions have yet to pan out.
Instead, Apple has opted to bring content from the iPhone and iPad to Apple TV over AirPlay wireless streaming. AirPlay functionality was also enhanced with Mountain Lion, Apple's recently released Mac operating system update.
As for the prospect of digital textbooks on the Apple TV, earlier this year Apple made a strong push into digital textbooks with iBooks 2.0 for iOS. The project was said to be a vision of the company's late co-founder, Steve Jobs.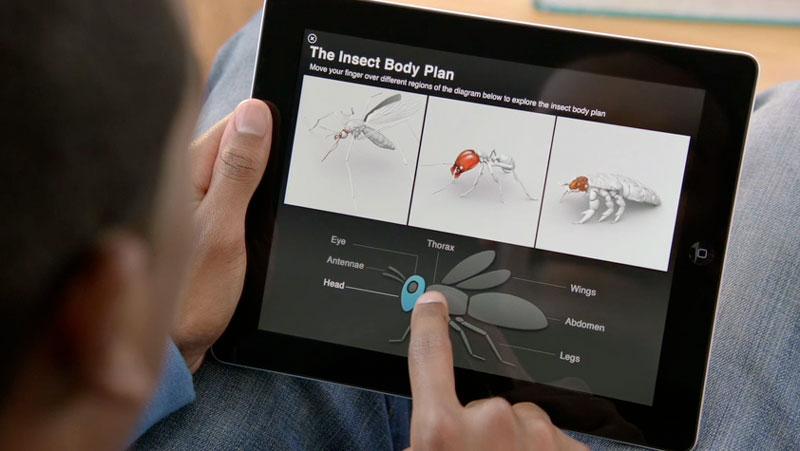 Apple's e-textbook initiative has found favor with the Obama administration, which outlined a challenge for schools and the industry to move from old media to digital textbooks over the next five years.
In March, Apple and a number of other technology companies took part in a discussion on how to implement digital textbooks in the nation's K-12 public schools. The talks were backed by the U.S. Federal Communications Commission and the Department of Education.
One publisher said the interactivity of digital textbooks on the iPad improved students' math scores by 20 percent. That result came out of a yearlong pilot program conducted by Houghton Mifflin Harcourt at Amelia Earheart Middle School in California's Riverside Unified School District.