Evidence of airline support for Apple's Passbook surfaces ahead of iPhone debut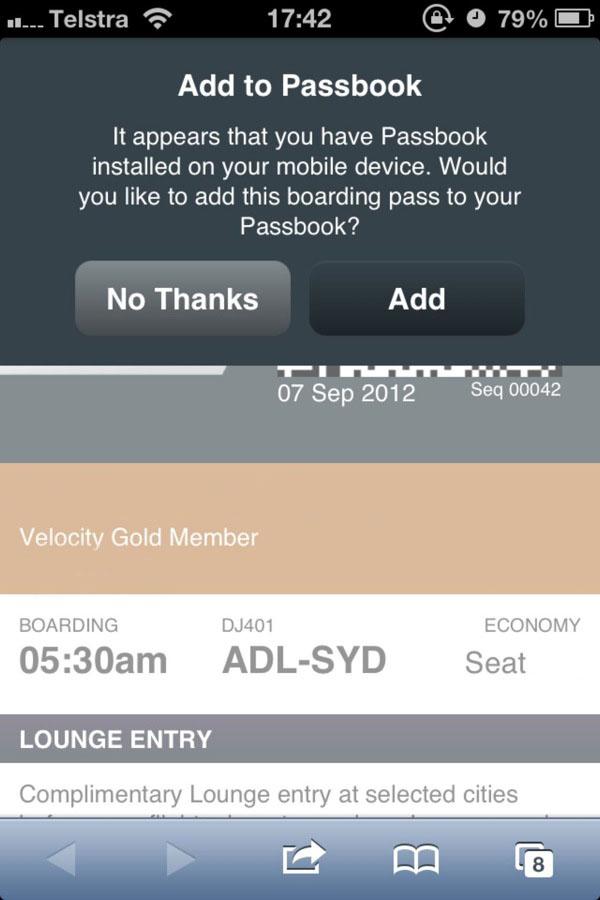 AppleInsider may earn an affiliate commission on purchases made through links on our site.
A report on Thursday claims a Virgin Australia passenger using an iPhone running iOS 6 beta was prompted to save a digital boarding pass to Passbook, hinting that air carriers are readying support for Apple's forthcoming organization app for coupons, membership and other barcode-based assets.
According to the Australian Business Traveller, the passenger checked in to a flight using the airline's mobile website on his iPhone, which recognized the digital boarding pass from Safari and displayed a prompt asking whether he wanted to add the digital ticket to Passbook, suggesting that Virgin Australia's mobile site is employing Apple's new ".pkpass" mime type.
The file type, which allows the Safari web browser and email clients to recognize boarding passes to be sent to Passbook for processing and storage, has been available to developers for some time, though before Thursday there was little evidence of a major airline using the feature.
Currently, only United Airlines has officially signed on to support the upcoming iOS 6 feature, however other carriers are sure to follow suit as many already offer barcode-based digital ticketing.
It is unclear if the traveller was able to board the plane using Passbook, however, as company protocol may not allow for the unreleased system.
Passbook is slated to debut alongside a list of new features when iOS 6 launches this fall. Apple this week sent out invitations to a Sept. 12 special event all but confirming the unveiling of its next-generation iPhone, which will run the new mobile operating system.