Lightning to 30-pin Adapter, EarPods cost $29 each from Apple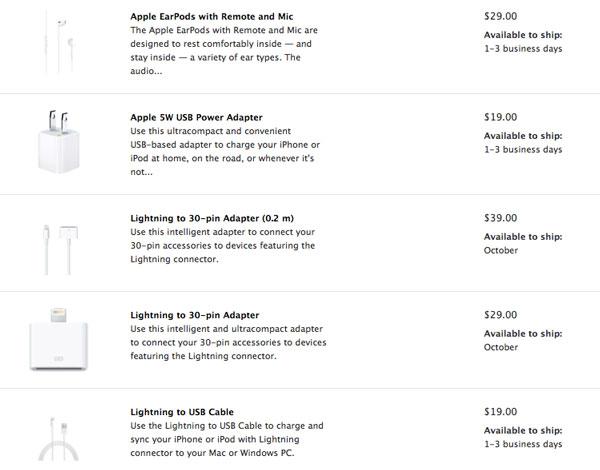 Pricing for Apple's new iOS device accessories has been revealed, and the Lightning to 30-pin Adapter will cost $29, a Lightning USB cable is $39, and the new EarPods are sold separately for $29.
The prices can be found in Apple's newly updated online store. The standard Lightning to 30-pin Adapter comes in a compact size and allows many, but not all, 30-pin accessories to work with newer devices like the iPhone 5.
Apple's official product description notes that both video out and iPod out are not supported with the Lightning to 30-pin Adapter.
If the compact adapter isn't a good fit for your accessories, Apple also offers a 0.2-meter cable that accomplishes the same task for $39. Both adapters are advertised as available to ship in October.
Also available in Apple's online store are the new EarPod headphones. The EarPods come with a remote and mic, like previous Apple headphones, and are priced at $29.
"The Apple EarPods with Remote and Mic are designed to rest comfortably inside — and stay inside — a variety of ear types," the product description reads. "The audio quality is so superior, they rival high-end headphones that cost hundreds of dollars more."
The new accessory is listed as compatible with a plethora of Apple's portable devices, including all generations of iPhone, iPod touch and iPad. The oldest compatible advertised device is the third-generation iPod, which debuted before the click-wheel.
Finally, Apple is also offering a Lightning to USB Cable for $19. It is the same USB syncing and charging cable that ships with the new iPhone 5, iPod touch and iPod nano.