Apple stock closes above $700 for first time after hitting record-breaking intraday high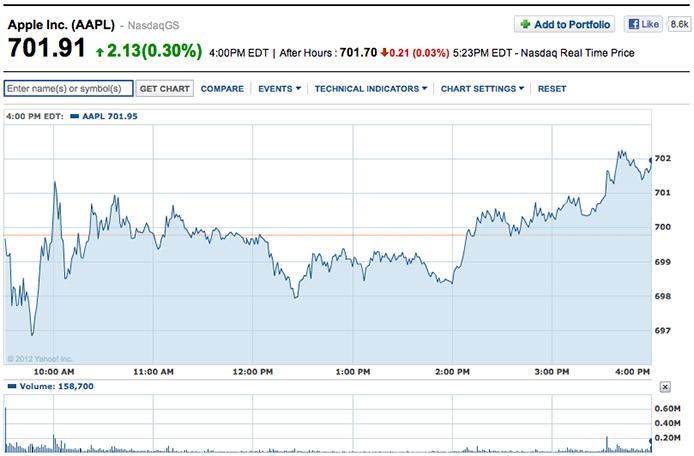 Apple stock reached another milestone on Tuesday, reaching all-time intraday and closing highs just one day after breaking the $700 barrier for the first time in after-market trading.
On Monday, AAPL shares jumped $8.52, or 1.23 percent, to reach $699.78 by the closing bell and managed to briefly pass the $700 mark in after-market trading.
While Tuesday only saw a minor bump of $2.13, or 0.3 percent, it was enough to push the stock price to $701.91, the first time Apple shares closed above $700 in company history. The Cupertino tech giant now has a market cap of nearly $658 billon, a value more than $250 billion higher than America's second-largest company Exxon Mobil.
A new intraday record was also set on Tuesday as the stock reached $702.33 less than an hour before the NASDAQ closed.
Thought to be a major factor in the stock's rise is Apple's record-breaking iPhone 5 pre-order round that saw two million orders in 24 hours.
In a subsequent note to investors, Piper Jaffray analyst Gene Munster said Apple is likely to sell about eight million iPhone 5 units in its first weekend of sales, a number that doubles the results from last year's iPhone 4S launch. He goes on to say that by the end of the quarter, the smartphone could reach a lofty 10 million unit sales.
Apple's newest handset is set to roll out on Friday in nine countries, to be followed by an additional 22 countries on Sept. 28 in what will be the company's fastest product rollout ever.