Apple reportedly waived one year of Google Maps contract in switch to iOS Maps [u]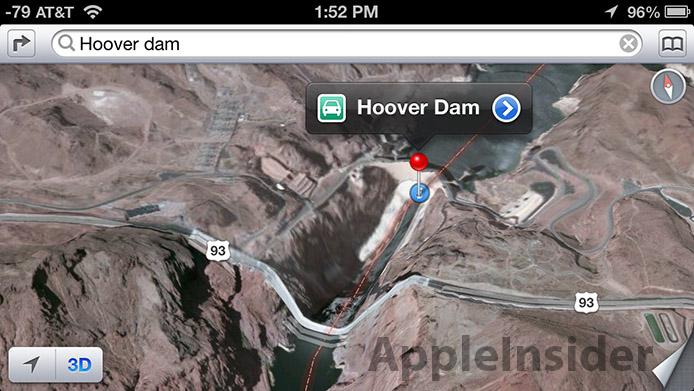 A report on Tuesday claims Apple had over one year left on its contract with Google Maps when it made the decision to replace the app with a proprietary solution, leaving the internet search giant with little time to develop a standalone version capable of running on iOS 6.
Update: The New York Times has confirmed with its own sources that Google is indeed building a maps app, however the software will likely not be available for months as the company was "caught off guard" when Apple announced iOS Maps. Google Maps for iOS will possibly be released by the end of the year.
According to two separate sources familiar with the matter, the decision to replace Google Maps came shortly before Apple's Worldwide Developers Conference in June, meaning Google had a short window with which to build a new iOS app. The sources go on to say the standalone Google Maps is largely incomplete and will not ship for "several months," reports The Verge.
Google Chairman Eric Schmidt said as much in a short interview on Tuesday, revealing that the company has "not done anything yet" in terms of submitting an standalone app to Apple.
As for Apple's decision to ditch Google's mapping service, Schmidt said, "What were we going to do, force them not to change their mind? It's their call."
Apple's proprietary mapping solution was introduced at WWDC, with iOS chief Scott Forstall touting the app's turn-by-turn directions, crowd-sourced traffic data, Siri integration and 3D Flyover capabilities. The company was also said to be handling the cartography in house in its bid to replace Google Maps, a bold undertaking given Google's service has been continuously fine-tuned over the past decade.
The move to introduce a totally new mapping system with iOS 6 and the new iPhone 5 was reportedly a result of the disparity of features between the Android and iOS versions of Google Maps. One key feature was free turn-by-turn directions, something that Google has been including in its Android OS for years.
In a bid to upstage Apple's announcement, Google announced the "next dimension" of Google Maps a few days prior to WWDC. The new feature turned out to be similar to Apple's Flyover and offers 3D renderings of certain large metropolitan areas.
When it was released last week alongside iOS 6, Apple's new iOS Maps met a flood of criticism from users who complained of incorrect positioning data, poor routing and Flyover rendering issues. Perhaps most troubling was the lack of features users had become accustomed to with Google Maps, such as Street View, highly-detailed map data and public transit routes.