Apple's expansions credited with boosting US office development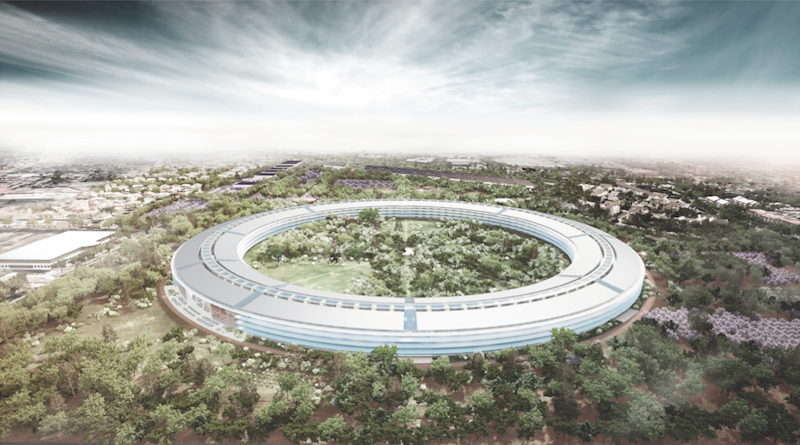 A rebound in construction of U.S. office space has been credited to technology companies such as Apple, as the iPhone maker prepares to build a massive new corporate headquarters in Cupertino, and also builds new operational facilities around the country.
Apple is joined by Facebook and Amazon in a profile on U.S. office development published on Friday by Bloomberg. It revealed that expansion by those technology companies has helped construction on new office space in the U.S. rebound from its lowest point in more than five decades.
Default rates on construction mortgages have steadily declined from their peak in 2010, but the beginnings of a rebound are in sight thanks to projects like Apple's 175-acre "spaceship" campus that is currently in the works. The four-story ring-shaped facility will feature 2.8 million square feet of office space and will hold more than 12,000 employees.
Apple's plans call for it to demolish about 2.65 million square feet of existing office and research and development buildings located on land that was formerly owned by PC maker Hewlett-Packard.
The news on how Apple is helping to bolster U.S. office development comes as Apple has begun the first work on its new nearly 700,000-square-foot data center facility in Prineville, Oreg. The Oregonian revealed on Friday that construction has started on the first $68 million phase of the facility, with land being cleared and flattened for one of the two 338,000-square-foot buildings.
The Prineville facility will aid Apple's iCloud service, and the company has vowed that hundreds of people will work on the project, and "dozens" will be employed there once it is complete.
As Apple's construction continues, Facebook is also plotting expansion to its headquarters in Menlo Park, Calif. The social networking site plans to add a single-story building about 430,000 square feet in size that will house 2,800 engineers.
And Amazon also plans to begin construction in 2013 on a new building — the first of three that are planned. Together, they will give the online retailer an additional 3 million square feet of space.
John Southard, managing director of CBRE Econometric Advisors, told Bloomberg that the projects by Apple, Amazon and Facebook are a "surprising amount of construction, given the amount of space available in the market." Though he characterized the improvement driven by the companies as "gradual," he believes construction will continue to increase going forward.