Tethercell to bring app-enabled remote control to conventional battery-powered devices

At CES, there's a fantastic amount of well-finished products from big tech vendors like Samsung and Lenovo, and automotive groups like VW and Ford. There's also an equally large amount of unrefined products, including a sea of cases and inexpensive bluetooth speakers.
I set out to find the interesting or more unusual products at the edges of the show floor.
We've seen an explosion of entrepreneurs come helped along by crowd-funding sites Indiegogo and Kickstarter. What's grown is the number of these types of projects trying to gain awareness through press releases and other more traditional efforts.
Here at the ShowStoppers CES event, startup Tetherboard set up a booth on the same day it kicked off their Indiegogo campaign. So far, they've raised over $4,000 of the $59,000 in target funding.
Tetherboard is the brainchild of Trey Madhyastha and Kellan O'Connor, two aerospace engineers who previously worked on mechanical and fluid systems for the SpaceX Falcon 9 rocket
Tethercell is basically an app-enabled AA-sized battery, but with a twist. The physical product is actually a plastic enclosure with wireless circuitry the size of a AA battery that holds a common replaceable AAA alkaline battery. The AAA battery powers both the Tethercell device and the AA-powered product you insert it into.
The Tethercell unit can manage the on/off state of the battery and monitor the battery's charge remotely from an iPhone app. It's also possible to set timers so devices can turn on and off, so that they'd be available during waking non-work hours, for example. Hard-to-reach installations like smoke alarms would be an optimal use case for Tethercell, but the possibilities are nearly endless. The company notes that a 9V version of the device will also be made available at a later date.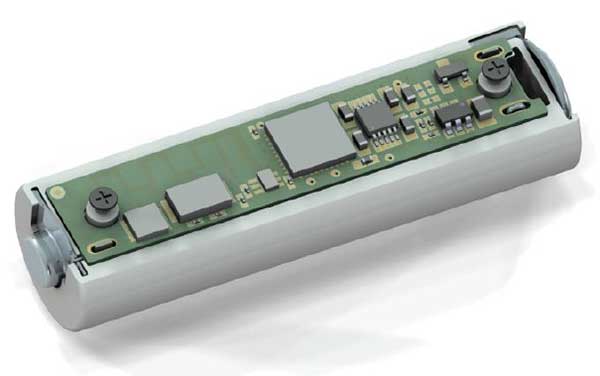 Tethercell uses low-power Bluetooth Smart (Bluetooth 4.0) technology, which consumes very low amounts of energy at greater distances, using low data cycles instead of persistent data communication. The standard provides for a reach of up to 50 meters (160 feet) of range. One downside is that Bluetooth 4.0 is only available on newer iOS devices likethe iPhone 5, the new iPad and iPad mini.
Tethercell plans to ship the products June 2013, but pricing and distribution have yet to be hammered out.