Apple overtakes Samsung as top U.S. mobile phone vendor for first time in Q4 2012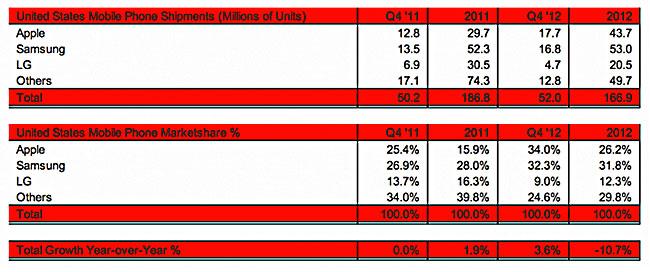 A report published on Friday by market research firm Strategy Analytics said that Apple became the largest mobile phone vendor in the U.S. over the last quarter of 2012, surpassing Samsung in total units shipped for the first time in company history.
The estimates from Strategy Analytics' Wireless Device Strategies service saw Apple ship 17.7 million units accounting for a record 34 percent of the market during the three months ending in December, enough to squeeze by Samsung's 32.3 percent share on 16.8 million shipments for the same period. In the fourth quarter of 2011, Apple was estimated to have shipped 12.8 million iPhones compared to Samsung's 13.5 million units.
Until quarter four, Samsung had been the prevailing U.S. market leader since 2008. It should be noted that the numbers account for both smartphones and so-called feature phones.
"Apple has become the number one mobile phone vendor by volume in the United States for the first time ever," said Strategy Analytics Executive Director Neil Mawston. "Apple's success has been driven by its popular ecosystem of iPhones and App Store, generous carrier subsidies, and extensive marketing around the new iPhone 5 model."
Coming in behind Apple and Samsung was LG, which shipped 4.7 million mobile phones to capture a 9 percent share of the market, slightly down from 6.9 million units and a 14 percent share in 2011.
During Apple's quarterly conference call for the first quarter of 2013, it was revealed that iPhone sales stood at 47.8 million units worldwide, a 29 percent increase from the year ago quarter. Adding to the boosted sales was strong performance in the U.S., according to Apple's Chief Financial Officer Peter Oppenheimer, who noted that a number of government agencies, such as NASA, NOAA and the TSA, were issuing iPhones "by the thousands."
Overall, the research firm said customer demand for 4G smartphones and 3G feature phones spurred U.S. shipments to 52 million units, a 4 percent increase from last year's 50.2 million units. The strong performance in the holiday quarter wasn't enough to make up for nine months of market contraction, however, which resulted in an 11 percent decline from 186.8 million units in 2011 to 166.9 million units in 2012.