NYPD & Apple cooperate to track down stolen iDevices, even outside of New York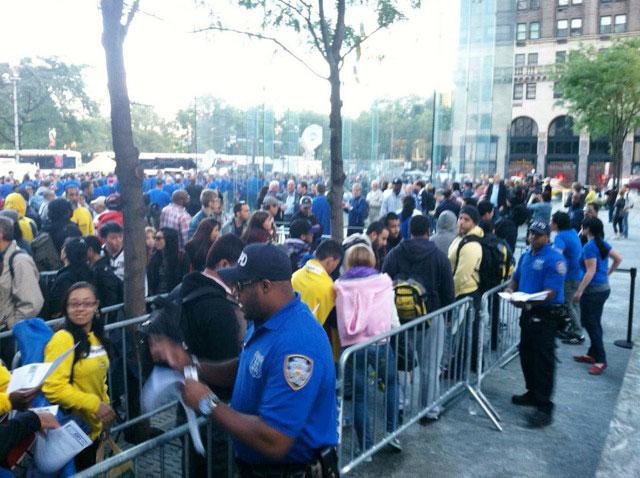 A new profile on iPhone and iPad theft in New York City reveals that the city's police department cooperates directly with Apple to track down thieves.
NYPD detectives attempt to obtain the International Mobile Station Equipment Identity number of any stolen device, and then pass that number along to Apple according to a story published on Friday by the New York Post. Once Apple has the IMEI number, it then attempts to track the device's current location and share it with the NYPD, even if the iPhone or cellular-connected iPad is now registered with a different wireless provider.
NYPD sign up customers at Apple's Fifth Ave store Friday. Photo via Gothamist.
The tracking done by Apple and law enforcement isn't restricted to the Big Apple, either. One stolen iPad was tracked to the Dominican Republic, and recovered by an NYPD intelligence officer in Santo Domingo.
Officials hope to not only track down the stolen goods, but also bust thieves who have elaborate reselling operations. In another example provided, the NYPD was able to track down a man selling stolen iPads at a city bus stop, thanks to help from Apple.
Late last year, New York City mayor Michael Bloomberg said thefts of iPhones, iPads and iPods were single-handedly accountable for an overall increase in crime in the Big Apple. The mayor revealed that if not for the increase in thefts of Apple products, total crime would have been down for the year in 2012.
Last September, a crime statistics report released by the NYPD revealed that Apple products accounted for 14 percent of all major crime in the city between Jan. 1 and Sept. 23 of 2012. That was a 40 percent increase in stolen Apple products from the same period a year prior.
In response increases in stolen Apple products, the NYPD went hands on with crowds lined up for the launch of the iPhone 5 in September. Police offers encouraged customers to register their electronics in order to potentially recover them in the event of a theft.