Purported next-gen iPhone motherboard part may reveal tweaked camera design

AppleInsider is supported by its audience and may earn commission as an Amazon Associate and affiliate partner on qualifying purchases. These affiliate partnerships do not influence our editorial content.
A component claimed to be part of the motherboard for an unreleased iPhone shows Apple may employ some internal design changes where the camera lens and flash are housed.
The parts were highlighted by French Apple site Nowhereelse on Thursday, and bear a strong resemblance to the corner of the iPhone 5 motherboard. But there are some key differences between the existing phone's component and the newly pictured part claimed to be from an unreleased iPhone model.
The tweaked design can be found on the end of the motherboard that has traditionally powered the camera and flash in previous generation models. But while the ribbons holding the part were two separate pieces inside the iPhone 5, those components have been connected to form one piece in the new component.
With Apple rumored to be working on expanding the iPhone lineup, it's unknown exactly what anticipated device the purported iPhone component could be intended for. Possibilities include an "iPhone 5S" or low-cost iPhone, both of which are expected to be introduced this year. Another option could be a completely different iPhone design, potentially for a 2014 model.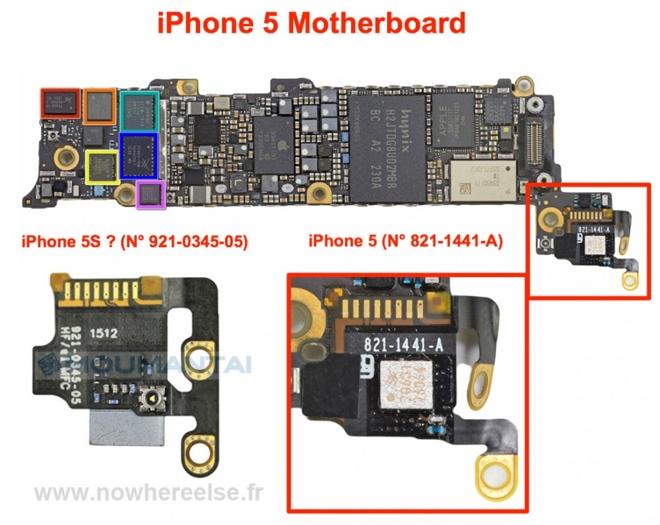 Thursday's part leak only shows one corner component of the motherboard, so it does not offer an indication as to what processor or other parts might be included.
The pictured component was obtained by Japanese retailer Moumantai, which was also the source of previous leaks of alleged next-gen iPhone components. One part pictured last month showed an alleged "iPhone 5S" camera lens, along with an unidentified mystery part.
Another component shown by the same retailer claimed to feature the home button of an iPhone 5S, while a third was alleged to be the vibration motor intended for an unreleased Apple handset.