Google's Chrome team developing app launcher for Mac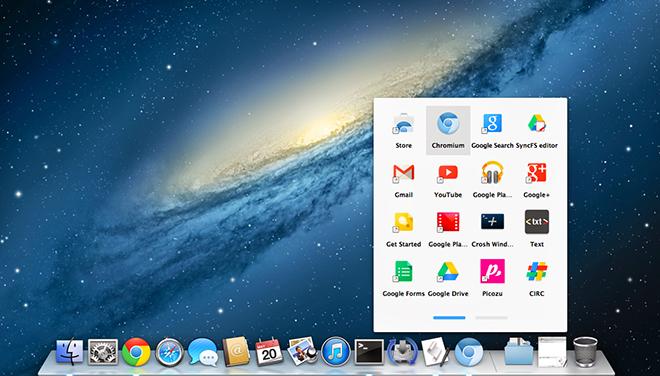 AppleInsider is supported by its audience and may earn commission as an Amazon Associate and affiliate partner on qualifying purchases. These affiliate partnerships do not influence our editorial content.
Google is looking to bring a version of its Chrome OS app launcher to the Mac, possibly as an add-on to the Chrome browser, allowing users to access a slew of Web apps normally available only from within the
Chrome developer François Beaufort revealed on his Google+ page (via iMore) that the Internet search giant is working to bring the app launcher to Mac.
Because the Chrome OS platform runs Web apps instead of traditional programs, the app launcher is a vital part of the experience. Instead of having to enter Chrome to execute app functions, the launcher breaks out the Web-based titles into a separate window.
Those interested in trying out the beta version of Chrome's app launcher for Mac can download the latest build of Chromium and run a switch command in terminal.
Available apps will show up as a pop-up above the Chromium icon in the OS X dock, while selecting a title will launch the app in a new browser window. Switching apps takes place in-browser, though the launcher does save a couple steps in navigating to a particular app.
It is unclear if or when Google intends to launch the functionality in Chrome for OS X, and Beaufort didn't offer any further information regarding the project beside its existence.
While the implementation is somewhat limited at this time, it shows Google is actively looking for ways to garner a larger presence on Apple's OS X platform.