AT&T expands 4G LTE connectivity to 35 new markets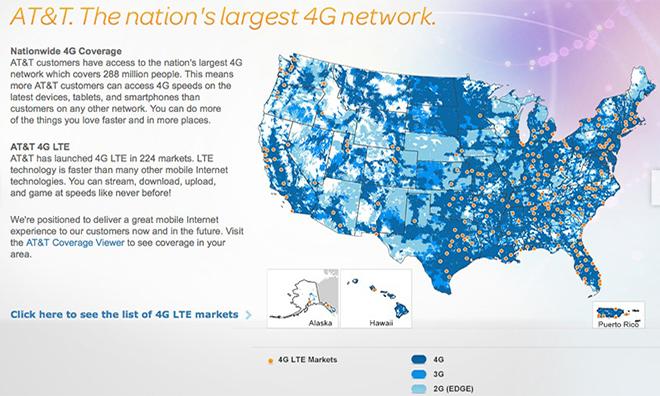 AT&T-based iPhone 5 and LTE-enabled iPad users in 35 more markets will now be able to access higher data speeds on their devices, as the carrier announced that it was bringing its 4G LTE service online in a range of new places across the U.S.
The carrier announced the 4G LTE expansion on Tuesday, bringing higher data speeds to markets from the Virgin Islands to Texas to Massachusetts. The latest rollout is a continuation of AT&T's bid to expand 4G LTE coverage to 79 new markets through this summer.
AT&T's 4G LTE network provides data speeds up to 10 times faster than 3G. In recent tests, PC World found AT&T's network, which covers 288 million people across the United States, to be the fastest among all providers in terms of download speeds.
The markets now able to access 4G LTE connections are as follows:
St. Thomas, Virgin Islands
Victoria, Texas
Palatka, Fla.
Grand Junction, Colo.
Morgan City, La.
Valdosta, Ga.
Pine Bluff, Ark.
Yakima, Wash.
Bremerton, Wash.
Moses Lake, Wash.
Silverthorne, Colo.
Homosassa Springs, Fla.
Chico, Calif.
Cape Girardeau, Mo.
Sherman-Denison, Texas
Corinth, Miss.
Grenada, Miss.
Batavia, N.Y.
Milledgeville , Ga.
New Ulm, Minn.
Beckley, W.V.
Oak Hill, W.V.
Midland, Texas
Odessa, Texas
Lawton, Okla.
Cape Cod, Mass.
Searcy, Ark.
Dunn, N.C.
Dillon, S.C.
St. Croix, U.S. Virgin Islands
Lafayette, La.
Atlantic City, N.J.
Meridian, Miss.
Greenwood, Miss.
New Iberia, La.