Remains of 15th-century hospital uncovered during construction of Madrid Apple Store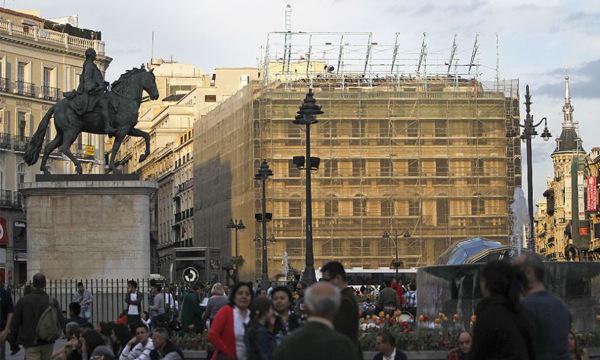 The ruins of a hospital built in the 1400s was unearthed during construction of the flagship Madrid Apple Store on Tuesday, adding to other artifacts recently discovered as modern renovations and construction dig deeper into the heart of the Spanish capital.
As first reported by Spanish language publication El Pais (via TUAW), the walls of the Buen Suceso hospital were discovered by construction workers renovating a historic structure at Number 1 Puerta del Sol, in which Apple's outlet will be located.
Built in the early 15th century to treat plague victims, the hospital was demolished in 1854 to make space for the existing square that stands above its buried walls. A church bearing the same name was found next to the site in June 2009 during construction of a light rail station. That project was halted for 10 months as archaeologists studied and preserved the ruins.
Apple won't have to put its renovations on hold, however, as the director of Madrid's heritage department, Jaime Ignacio Muñoz, instructed the company to merely change the basement's flooring to "symbolically" trace where the walls stand below.
The Puerta del Sol location will be Apple's third in Madrid, and takes residence in the famous Hotel Paris building, which was erected just five years after the Buen Sucesco hospital and church were torn down. Apple is expected to occupy 6,000 square feet of the building, including some of the basement where Tuesday's discovery was made. The massive amount of floor space of the Madrid flagship store is expected to exceed even that of the company's iconic Fifth Avenue location in New York.