Apple's iTunes Store racks up 1B podcast subscriptions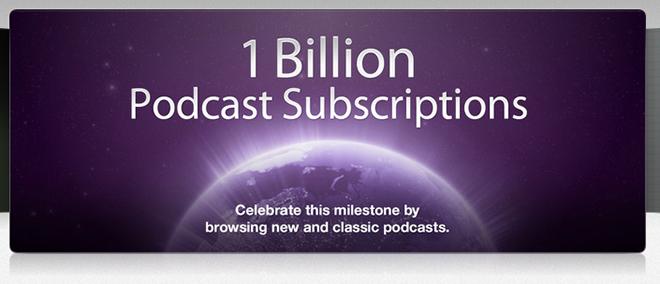 AppleInsider is supported by its audience and may earn commission as an Amazon Associate and affiliate partner on qualifying purchases. These affiliate partnerships do not influence our editorial content.
Apple on Monday announced the iTunes Store now has more than one billion podcast subscriptions, and is celebrating the milestone by highlighting some of the most popular content since the medium hit the digital storefront in 2005.
According to Apple, the iTunes Store now has roughly 250,000 different podcasts in more than 100 languages, that have produced over a collective 8 million episodes, reports Macworld.
In a special section dedicated to the huge number of subscriptions, Apple notes that "podcasting has transformed the global media landscape." Podcasts are usually short, episodic series that fall into one of many genres, including comedy, documentary, and DIY, among others. Not bound to audio, podcasts also come in video, notables being TEDTalks and NBC Nightly News.
While Apple company does not directly profit from podcasts, creators have found ways to monetize their content through advertising, sponsorships, and other Internet-based methods. The company introduced its first standalone podcast app in iOS 6, allowing users to discover, download and manage their podcast subscriptions.
As for the "1 Billion Podcast Subscriptions" section in the iTunes Store, Apple features podcast selections from "The Classics," "What's Hot," and "New & Noteworthy."