Analysts react to Apple's iPhone 5s and 5c launch weekend sales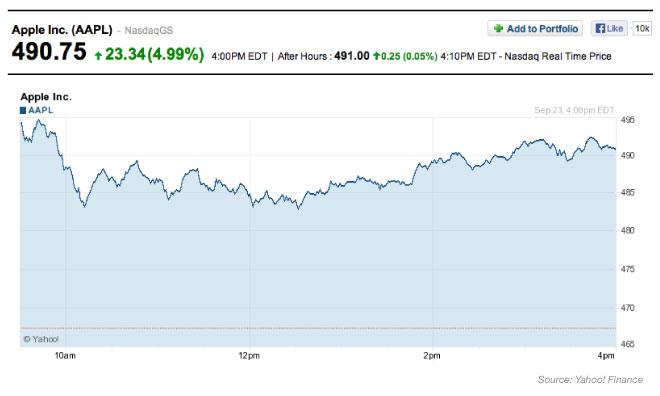 AppleInsider is supported by its audience and may earn commission as an Amazon Associate and affiliate partner on qualifying purchases. These affiliate partnerships do not influence our editorial content.
After Apple's Monday morning announcement of record-breaking sales for Cupertino's newest flagship iOS devices, sentiment among analysts is generally positive.
With more than nine million iPhone 5s and 5c units moved in the phones' first weekend of availability, analysts review their estimates and revise price targets for Apple's stock, though few alter ratings.
Gene Munster, Piper Jaffray
Sales numbers are higher than expected, but that may be due to retained inventory rather than sales to consumers.
"We had been expecting 5-6 million units as sell-through and note that the 9 million unit weekend number includes sell-in of the 5C. Our adjustment for the sell-in implies opening weekend sell-through of around 5.5 million units. We believe the 5.5 million sell-through number compares to the 5 million iPhone 5 units sold last year (Apple sold out of initial stock) and view the 5S/5C launch as a solid start. We note that iPhone 5S demand throughout opening weekend appeared to be stronger than iPhone 5 demand last year."
iOS 7 appears to be driving sales of new iPhones, while sales numbers are even more encouraging due to iPhone 5s supply constraints.
"We find it interesting that Apple is also positively revising its guidance while the quarter is still about a week away from closing. We do not recall this type of pre-announcement ever happening and it seems that it implies a message from management that the company is back on track.
The announcement is quite positive considering supply of the iPhone 5S is also significantly constrained at this point, as demand has exceeded the initial builds. Apple also announced 200 million customers have migrated to iOS7 and the rollout has been the 'fastest software upgrade in history.' The new OS is clearly driving sales as well."
Sales figures seem strong at first glance, but may be tempered by weaker-than-expected demand in key growth areas.
"The 5c appears less popular than the 5s with its advanced technology, at least among early buyers.
The first weekend numbers are encouraging though with wider availability and product cycles seemingly compressing it is difficult to know how far to extrapolate the figures. The response in China appears muted. In addition pricing programs from China Telecom and Unicom are not as accommodative as originally thought."
Timothy Arcuri, Cowen & Company
Apple confounds sales expectations and validates iPhone 5c market targeting strategy.
"AAPL announced BMO that it sold ~9MM new iPhone 5S/5C over the weekend with more than 200MM iOS devices being updated with iOS7. This compares to ~5MM iPhone 5 and ~100MM iOS6 downloads in the first weekend of launch in September 2012. This is roundly better than our ~7MM expectation (some peers were still saying 5MM as recently as this morning) and, we think, also materially better than buy side expectations of ~7-8MM (see our note from midday Friday). We think this result validates Apple's decision to maintain focus on profitability vs market share."