Apple's legal chief cashes out over $12M in AAPL stock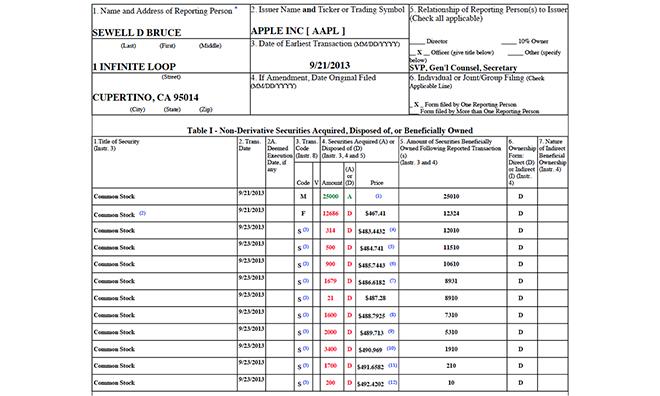 Apple senior vice president and general counsel Bruce Sewell sold nearly $12 million in Apple stock on Monday after 25,000 restricted stock units vested, a filing with the U.S. Securities and Exchange Commission shows.
According to the Form 4 document, the $11.9 million of AAPL stock Sewell sold included $5.9 million withheld to satisfy minimum statutory requirements on vested RSUs. That trade, which amounted to 12,686 shares, occurred on Saturday when the 25,000 RSUs vested.
The remaining 12,314 shares were sold on Monday in batches, with prices ranging from $483 to $492. As noted by filing, the transactions were executed in multiple trades, with reported prices reflecting the weighted average sale price.
The RSUs are the last from an award granted on Sept. 21, 2009, 25 percent of which vested in 2010, with remaining units vesting in installments of 25 percent over a four-year period.
Sewell joined Apple in Sept. 2009, coming straight from Intel where he held a similar position as the chip maker's legal and corporate affairs chief for eight years. Prior to that, Sewell was a senior attorney at Intel for six years, specializing in antitrust compliance, licensing and intellectual property.