Review roundup: Apple's new iPad Air is light, powerful with extended battery life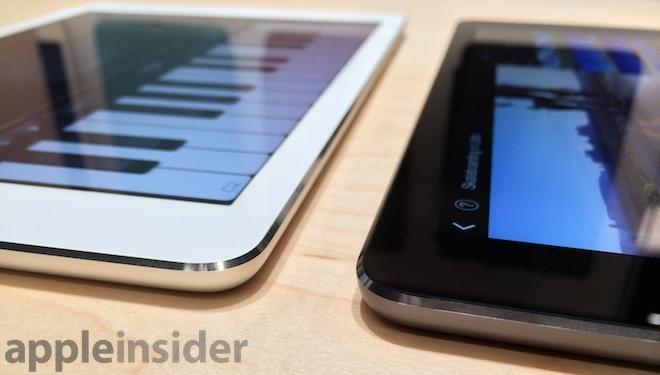 AppleInsider may earn an affiliate commission on purchases made through links on our site.
The first reviews of Apple's new iPad Air starting coming out on Tuesday, and so far the consensus is incredibly positive, with tech journalists heaping praise on the recently announced tablet.
AllThingsD
The venerable Walt Mossberg praised Apple for keeping battery life a main concern with the iPad Air, and the journalist noted that the new tablet's performance in this regard was the best he has ever tested. Mossberg was able to manage 12 hours of high definition video playback while multitasking with other apps like Mail.
"This new iPad isn't a radical rethinking of what a tablet can be, but it's a major improvement on a successful product," he says. "It is the best tablet I've ever reviewed."
Aside from the long battery life, Mossberg was impressed by the iPad's heft, or lack thereof.
As for downsides, Apple does not provide its own accessories, like a keyboard, for the iPad, and cost may be an issue for those with tight budgets. In the end, however, Mossberg recommended the iPad Air "hands down."
The Loop
Jim Dalrymple of The Loop was one of the first to post his review after the embargo lifted on Tuesday night. He had high hopes for the device, and apparently Apple came through.
"The good news is the iPad Air lives up to all of those expectations and more," Dalrymple writes.
Special attention was paid to how light and powerful the iPad Air is compared to its predecessor. Apple managed to shave half a pound off the new model by slimming down the bezel and battery, while boosting performance with its A7 SoC.
TechCrunch
TechCrunch's Darrell Etherington says the iPad Air "breathes new life into Apple's original slab-style game-changer." He goes on to mention the performance gains enjoyed by the tablet's A7 chip, which gave a significant boost to iOS apps like Apple's own iLife and iWork suites.
Battery life was again a strong point, but Etherington only squeezed Apple's advertised 10 hours over Wi-Fi, and a little less using LTE data.
He notes that the new iPad may convert some users to a larger display, contrary to the recent trend of consumers gravitating toward smaller-screened and more portable tablets.
CNET
Tim Stevens from CNET gave the iPad Air an "Outstanding" 4.5 out of 5 star review, calling it the best full-size tablet on the market. Like Mossberg, Stevens noted the device is priced higher than competitors' offerings, but the performance and design changes could be worth it for many.
"Indeed, pick up an Air and you'll be reminded of the first time you held a Mini," Stevens writes. "It's a 'wow' moment."
As for performance, CNET found the A7 chip clocked at 1.39GHz, slightly higher than the iPhone 5s' 1.29GHz. The added speed comes at the price of heat, though the unit is a bit cooler than the fourth-gen model.
He points out that, while the internals are largely similar to last year's model, the new iPad's aesthetics put it "on another planet."
Endgadget
Engadget's Brad Molen found similar results in battery life and performance tests. The design was especially important for Molen.
"Not every manufacturer can produce a thin and light device without also making it feel cheap or flimsy, but Apple nailed it," he writes.
Molen compares the iPad Air to a larger iPad mini, and despite the mediocre camera performance, finds the tablet to be the best iPad yet.
Other notable reviews
Sales of the iPad Air will kick off on Friday, with Apple Stores opening early at 8 a.m. for the event. Additionally, those interested can arrange for in-store pickups, with orders thought to start on Nov. 1 at 12:01 a.m. Pacific.