Apple-backed patent consortium sues Google, major Android manufacturers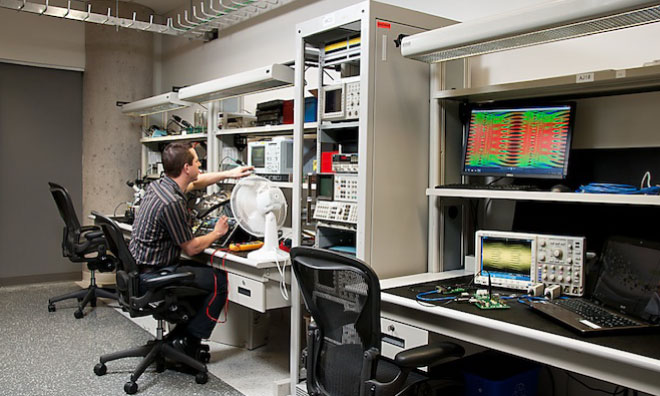 A patent holding company backed by Apple, Microsoft, Blackberry, Sony, and Ericsson has filed the first round of lawsuits based on patents the group won at auction from seminal telecom company Nortel.
A Rockstar engineer disassembles devices to look for patent infringements | Source: Rockstar via Wired
The company, Rockstar Consortium, on Thursday filed eight patent infringement suits in the Eastern District of Texas against Google, Samsung, Huawei, ZTE, LG, HTC, Pantech, and Asus, according to FOSS Patents. The list of manufacturers represents every major Android OEM apart from Sony, which is a part owner of Rockstar.
AdWords under attack
The case against Google is based on a family of patents covering an "Associative Search Engine," and more specifically contextual advertising within search results, the first of which was filed in 1997 — the year before Google's inception.
Rockstar alleges in its complaint that Google "has infringed and continues to infringe" seven patents related to "matching search terms with relevant advertising and/or information based on those search terms and other user data." The suit explicitly cites Google's AdWords bid-based targeted advertising system, which is at the heart of Google's search business model and represents the vast majority of the company's corporate revenues.
Rockstar is attacking the source of 98% of Google's revenue
When the patents went up for auction in 2011 following Nortel's bankruptcy, Google was among the initial bidders, winning the stalking horse bid with a $900 million offer. The company eventually bowed out of the race for the treasure trove of intellectual property — Â which also includes important patents on 3G and LTE wireless networking — Â at $4.4 billion, ceding the portfolio to Rockstar and its $4.5 billion bid.
Google's active participation in the auction is held up as evidence of the patents' applicability to Google's operations, with the complaint saying that "despite losing in its attempt to acquire the patents-in-suit at auction, Google has infringed and continues to infringe the patents-in-suit."
More trouble for Android OEMs
The manufacturer lawsuits allege infringements against a different set of Nortel patents, ranging from a patent on an "electronic package carrying an electronic component and assembly of mother board and electronic package" to one covering "call trace on a packet switched network."
The lawsuits target only Android devices
According to the complaints — Â which FOSS Patents notes are identical in each case — Â the manufacturers are accused of direct and indirect infringement due to "one or more of making, using, selling and offering to sell...certain mobile communication devices having a version (or an adaption thereof) of Android operating system." This means Rockstar is not asserting the patents against devices from those manufacturers running Windows Phone, likely thanks to Microsoft's position as a part owner of Rockstar.
Rockstar is seeking permanent injunctions and damages in the cases, though it is still possible that the threat of going to trial against such a deep pool of intellectual property will drive the manufacturers to settle out of court and begin paying licensing fees.
Patent license fees have fast become just another cost of doing business for Android manufacturers, with more than twenty major licensing deals announced in the last few years. It is widely believed that thanks to the agreements, Microsoft makes more money each year from Android than Google does.