Review: Apple's late-2013 13-inch MacBook Pro with Retina display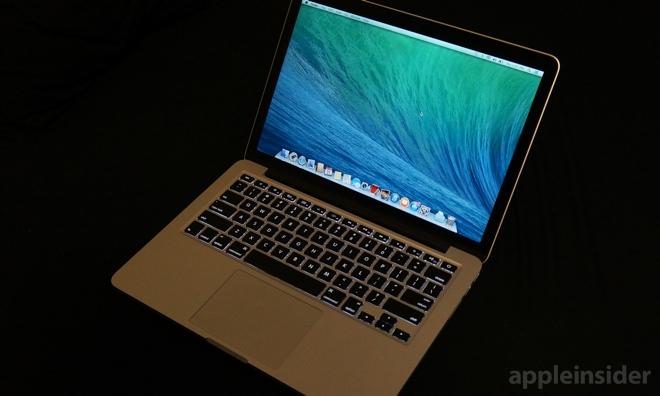 Apple's new late 2013 13-inch MacBook Pro with Retina display has a slightly thinner profile and reduced heft from last year's model, along with a smaller price tag. But it's what's on the inside that really makes this notebook a stunner.
Configuration options
The 13-inch MacBook Pro with Retina display can be ordered with one of three different CPU options. The base model ships with a 2.4 GHz dual-core Intel Core i5-4258U Haswell processor with 3 MB of shared L3 cache.
It can be upgraded to either a 2.6 GHz Core i5-4288U version, or a 2.8 GHz dual-core Intel Core i7-4558U with 4 MB of shared L3 cache.
All three options provide integrated Intel Iris 5100 Graphics with DDR3L SDRAM shared with main memory.
And while last year's model came by default with 8 gigabytes of RAM, with no upgrade options, this year the systems can be configured in a range from 4 gigabytes to 16 gigabytes.
Our test machine was Apple's entry-level model, which retails for $1,299. It includes with 4 gigabytes of RAM and integrated Intel Iris graphics.
Apple's new Macs all ship with with Mavericks, the company's latest OS X operating system, as well as free copies of the iLife and iWork suites.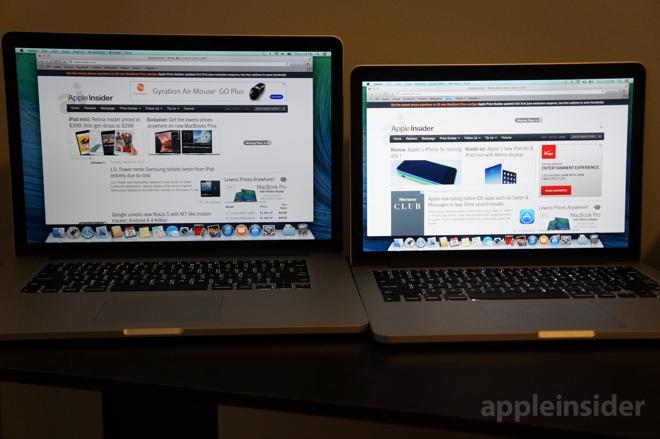 Design
The design of this year's 13-inch MacBook Pro has been tweaked, making the new model slightly thinner and lighter. The 2012 model weighed in at 3.57 pounds and was 0.75-inch thick, while the new 2013 design is 3.46 pounds and 0.71-inch thick.
Aside from the new, thinner and lighter form factor, the 13-inch Retina MacBook Pro has an exterior identical to last year's. On the left side are a MagSafe 2 charging port, two Thunderbolt 2 inputs, a USB 3.0 port, 3.5-millimeter headphone jack, and two microphone holes. The right side sports another USB 3.0 port, an HDMI out, and a full-size SD card slot.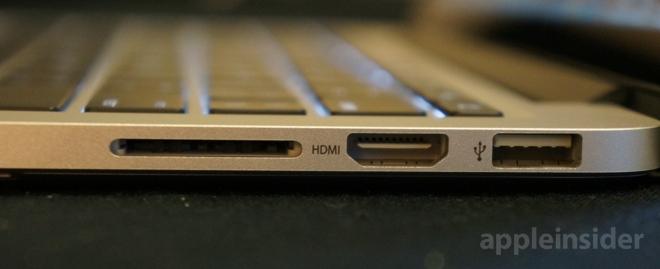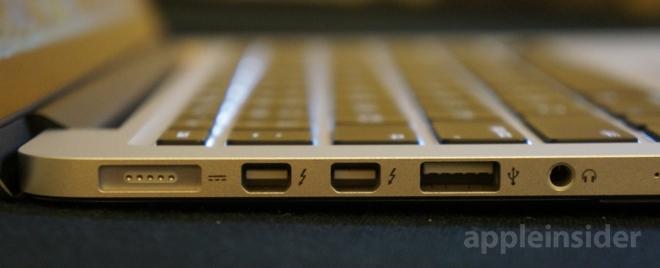 These are the exact same ports and configuration found on the full-size 15-inch MacBook Pro. So those opting for a smaller screen size won't miss out on any connectivity options.
It's also got the same island-style backlit keys, Apple's industry leading glass trackpad, and the same gorgeous Retina display, which outputs a native 2,560-by-1,600-pixel picture, packing in 227 pixels per inch.
That also means you get IPS technology, for fantastic viewing angles on the screen, as well as the same relatively low-glare glossy display found in last year's model.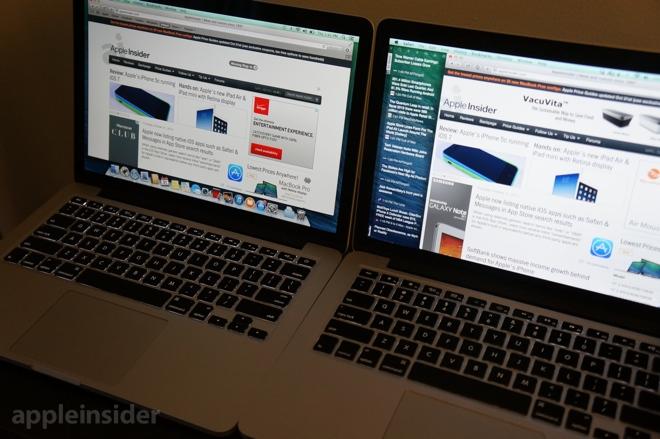 Left: 2013 13-inch Retina MacBook Pro. Right: 2012 model.
Externally, you'd be hard pressed to tell the new late-2013 13-inch MacBook pro apart from last year's model. In fact, the new, thinner profile is so subtle, you may have difficulty seeing the differences between the two models if they're side by side.
The real difference with Apple's latest MacBook Pro models is what's on the inside. Namely, Intel's latest-generation Haswell processors, which boost performance and battery life.
Internals
Intel's Haswell microarchitecture was first used by Apple this summer for the MacBook Air. Haswell aims to deliver high power efficiency, benefitting from Intel's advanced FinFET transistors built at a 22nm process node.
The chips improve upon the previous Core i5 Ivy Bridge design by incorporating a second branch predictor (used to optimize the flow in the instruction pipeline), a third address generation unit (used in memory access) and a fourth arithmetic and logic unit, along with higher bandwidth cache.
Haswell chips also include new instructions enhancing SIMD vector processing with Advanced Vector Extensions 2 and integrates the Platform Controller Hub and voltage regulator into the chip package itself, rather than being separate components on the logic board.

Left: 2013 13-inch Retina MacBook Pro. Right: 2012 model.
Along with a series of other advances and optimizations, Haswell is intended to be much more energy efficient while also being slightly faster even at a lower clock speed.
And it shows. The new MacBook Pros are advertised to offer a full workday's worth of battery life, and they do not disappoint.
In our tests, the battery performance on the new 13-inch MacBook Pro was excellent, and comparable with the more expensive 15-inch model. Both strong enough to easily get through an average workday with Wi-Fi enabled and backlight at a reasonable setting. For its part, Apple advertises that the 13-inch Pro gets 9 hours of use, but our tests suggested it could exceed that amount.
For comparison's sake, we also ran a more extreme battery stress test, with maximum brightness, keyboard backlight on, streaming a high-definition video from YouTube. In this taxing scenario, the MacBook Pro lasted over four hours before warning it needed to be plugged in.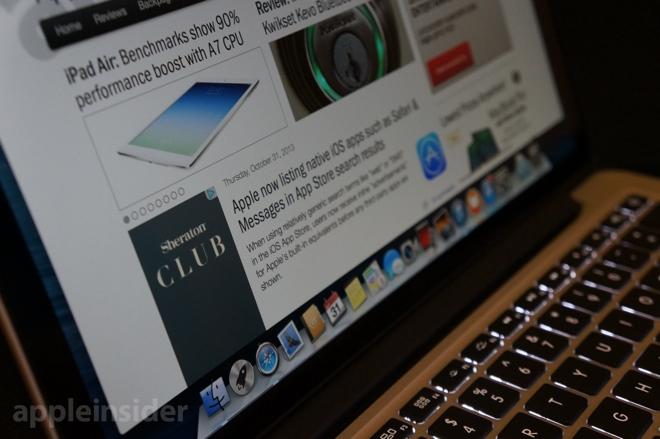 Outside of the Haswell chips Apple is using in its new MacBook Pros, Intel also offers its Haswell processors paired with simpler HD Graphics, as well as "ultra low" and "ultra low extreme" versions aimed at the "Ultrabook" and tablet markets.
These other processor packages include significantly inferior Intel HD graphics; Apple is essentially offering only Haswell chips paired with Intel's much improved Iris-branded integrated graphics.
That's not to say that Iris is a true discrete GPU replacement. And unfortunately, Apple doesn't offer the option of a discrete graphics card in its 13-inch MacBook Pro lineup.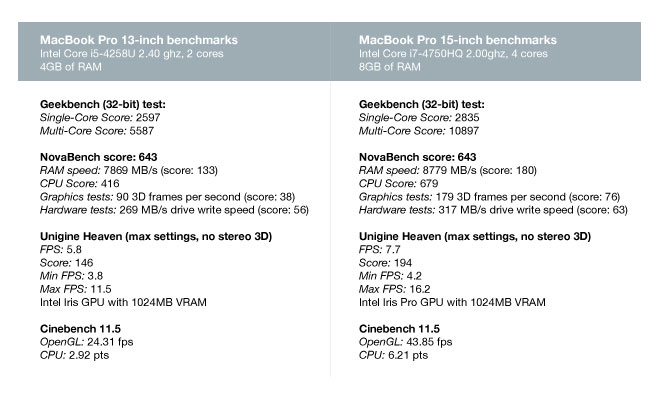 Intel's integrated graphics have come a long way, and this year's Iris GPU represents the best effort yet from the company. The power offered by Iris will be adequate for most users, and can even be used to play 3D games at decent settings. We found titles such as Diablo III running at a moderate resolution had an acceptable framerate.
But still, in an extreme graphics benchmark test with maxed-out settings in Ungine Heaven, Iris struggled. Intel's latest GPU will be enough for most users, but isn't going to make this a go-to rig for hardcore gamers.
Users who want more power from their portable machine in the form of a discrete GPU will be forced to upgrade to Apple's 15-inch model, and even then it's not a standard inclusion.
The entry-level model we tested also comes with a 128-gigabyte solid-state drive, which is speedy and boots quickly, in just a handful of seconds. That capacity frankly may be a little small for many true professional users, but that's why it's an entry-level machine.
Conclusion
Apple's late 2013 13-inch MacBook Pro sports a number of improvements over last year's first-ever 13-inch Retina display model. The inclusion of Haswell alone, with its boost to battery life, makes this a worthy successor.
Though subtle, the thinner design and lighter weight are also welcome improvements.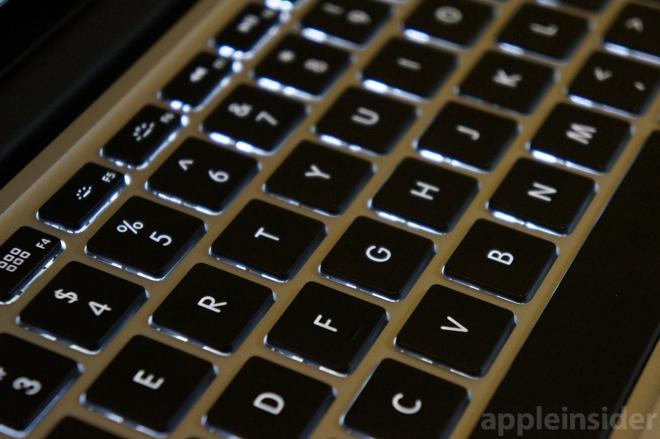 Apple also addressed a major issue with last year's model by slashing the price, which now starts at just $1,299. Unfortunately, it achieved that by including only 4 gigabytes of RAM on the entry level model.
Bringing the machine to a more acceptable 8 gigabytes is $100, while a 16-gigabyte configuration is an additional $300, which takes some of the shine off of the new pricing.
And there's no option for a discrete graphics card, which is disappointing but understandable given the compact nature of the 13-inch notebook.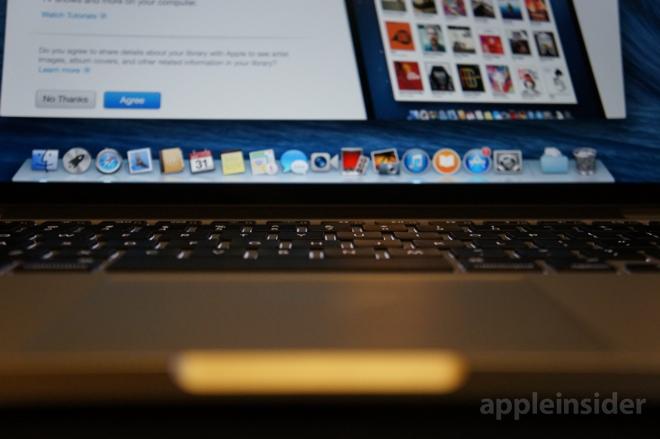 For users interested in a powerful notebook with a high-resolution display, the 13-inch MacBook Pro with Retina display is easy to recommend. It's beautiful, it lasts all day, and it's more portable than the larger 15-inch model.
And for those who may have held off on last year's model because of price or upgrade options, Apple has heard you. This is a good time to buy, and this is a good notebook to choose.
AppleInsider editor Daniel Eran Dilger contributed to this review.
Score: 4 out of 5

Pros:
Thinner and lighter (but only slightly)
Cheaper pricing than last year
RAM now upgradeable to 16 gigabytes
Cons:
4 gigabytes of RAM in the entry level model may be too little for some
Still no discrete graphics option, though Iris will be enough for many
AppleInsider extends its thanks to Apple Authorized Reseller B&H Photo for sponsoring this year's MacBook Pro Retina review series. The New York-based superstore recently took home top honors in Consumer Reports' 2013 electronic stores rankings for overall customer service and satisfaction.
How to save when buying
Readers looking to purchase up a new MacBook Pro Retina at the absolute lowest prices can turn to our Mac Price Guides, which track the prices of Macs at Apple's largest Authorized Resellers throughout the year. Currently, the AI readers have two exclusive ways to save over Apple's MSRP:
If you just want to purchase a new MacBook Pro Retina without a 3-year AppleCare protection plan, MacMall exclusively offers AppleInsider readers the lowest prices anywhere on these models, as can be seen in the relevant price guide snippet below. To take advantage of the offer, simply use the MacMall links in the price guide to activate the "Promo Code" field on reseller's website and then apply promo code APPLEINSIDER01
MacMall also only charges tax to residents of CA, NY, IL, WI, MN, CO, TN, NC and GA. This means that — on most models — customers outside those states will save at least another $100 from the tax savings, in addition to the 3% exclusive discount.
Macs bundled with AppleCare
Alternatively, if you'd like to bundle a 3-year AppleCare Extended Protection Plan with your new MacBook Pro Retina, AppleInsider also maintains a Mac+AppleCare Price Guide listing the combined prices for each new Mac model along with 3 years of AppleCare. As can be seen in the relevant portion below, the lowest prices on these bundles sometimes come from MacMall, but are more often available at B&H.
For its part, B&H exclusively offers readers instant savings of between $70 (13-inch models) and $105 (15-inch models) on AppleCare protection plans for the MacBook Pro. In addition, B&H only charges sales tax to residents of its home state of New York.
An easy 5-step help guide is also available to show precisely how to pair an AppleCare protection plan to your new Mac at B&H's reduced pricing.
Other options include Amazon, which only charges sales tax to residents of AZ, CA, KS, KY, NJ, NY, ND, PA, TX, and WA; and BestBuy, which sometimes offers in-store pickup of online orders.