Apple Store sales fall 3% as iPhone, iPad distribution network grows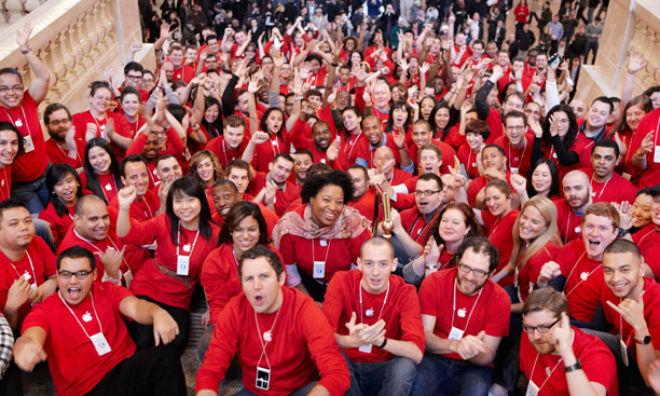 Apple Store revenues have not kept up with the parent company's overall growth, as distribution of the iPhone and iPad through third-party resellers has helped push some sales elsewhere.
Same-store Apple Store sales were down 3.3 percent in the September quarter, which was still an improvement from the June quarter when same-store sales were down 9.6 percent. Apple's retail performance was highlighted on Monday by analyst Charlie Wolf of Needham & Company, who said he expects the pattern of Apple's retail stores not keeping pace with the company's overall growth to continue.
Non-Mac same-store revenues were up 9.7 percent for the quarter, while same-store Mac unit sales fell 15.1 percent. But customers can increasingly buy an iPhone or an iPad at new locations, including carrier partners' retail stores, limiting sales growth of those devices at Apple's own stores.
Apple's stores will soon find themselves under new leadership, as Burberry CEO Angela Ahrendts is set to take over the company's retail operations next spring. Wolf noted that while the hiring of Ahrendts has been praised, it will be difficult for her to accelerate Apple Store sales, which "have become increasingly hostage to Apple's overall distribution and product strategies."
One area where Wolf does see potential for growth, however, is China. Apple has big plans for retail expansion in China, but in recent quarters has fallen behind its initial projections for opening new retail locations.
Regardless of any slowdown, Wolf believes Apple's stores are a crucial component of the company's business, serving as the "face" of its brand.
"Through their array of post-sale services, the stores also seem to have become a magnet in attracting Windows users to the Mac platform," he said, noting that about half of the estimated 1 million Macs sold in Apple Stores last quarter were to Windows "switchers."
Despite recent slowdown, the success of Apple's retail stores is unparalleled. The average annual rate of sales growth from 2002 to 2013 was 15.9 percent — non-Mac sales grew at a 23.2 percent rate, while Mac units sales grew 9.3 percent each year.
Visitors to Apple's stores have also grown over the last 11 years by 13.1 percent annually, forcing the company in recent years to build larger locations to accommodate customer traffic.