Apple teases Black Friday shopping event online and in its retail stores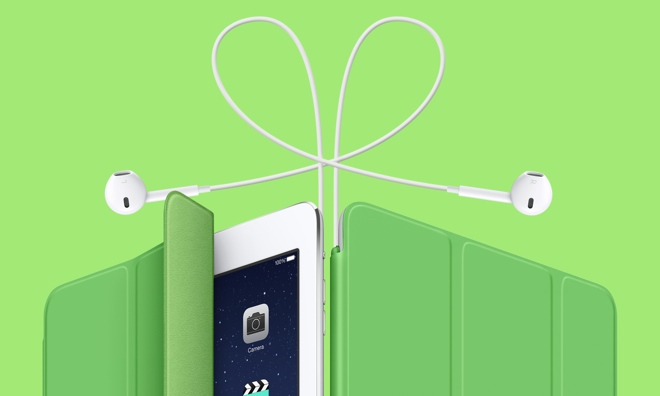 Apple on Monday began teasing at its website that it will hold a one-day shopping event this week on the annual "Black Friday" shopping holiday, both in its retail stores and online.
Exactly what Apple will be offering for discounts at the annual event is unknown. But an advertisement posted to the company's Australian website shows iPads with green smart covers, while a pair of Apple EarPods behind them are tied up like a bow on a present.
Visitors are encouraged to shop online, visit an Apple retail store, or buy products from the official Apple Store application for iOS. The site notes that shoppers get free shipping online.
In the fine print, Apple states that Black Friday prices are valid on Nov. 29 from 12:01 a.m. to 11:59 p.m. local times. It also states that promotional pricing cannot be combined with other offers, not all sale products are available in all Apple Retail Stores, and that sale prices are limited to stock on hand.
Apple will be competing with virtually every other retailer this Friday for the annual Black Friday event. Amazon kicked off its own weeklong sale on Sunday, with new bargains being posted to its website every 10 minutes.