Apple widens lead over Android in worldwide ad impression share, now twice as large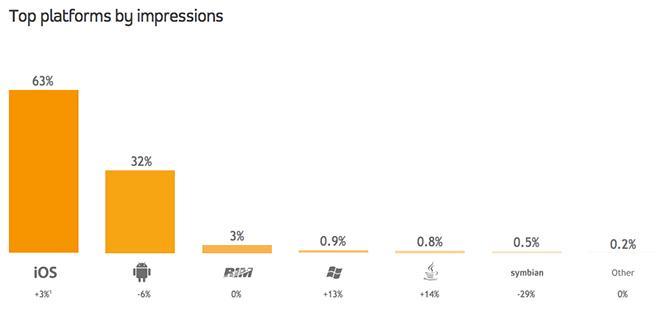 For the third quarter of 2013, worldwide ad impressions recorded from devices running Apple's iOS doubled those from rival Android, one report says, once again suggesting higher Web engagement from iPhone, iPad and iPod touch users.
According to fresh data from ad buying platform and mobile DSP Adfonic, Apple's iOS accounted for 63 percent of all global impressions during quarter three, a three percent boost from the quarter previous. Despite having a vastly larger marketshare, Android dipped six points to finish the three-month period with a 32 percent ad impression share.
With iOS and Android dominating the field, third place BlackBerry came up with a three percent ad impression share, followed by Windows Phone at 0.9 percent and Java at 0.8 percent. Microsoft's mobile platform managed to improve by 13 percent quarter-to-quarter, but its marketshare is still insignificant.
As can be expected, Apple was the number one manufacturer, followed by Samsung, which held steady at 20 percent. The rest of the ad impression pie was broken into small pieces. HTC and BlackBerry held a three percent share each, while LG, Nokia and Sony Ericsson all logged a two percent marketshare. Below the one-percent mark was Sony, Motorola, Amazon.
Broken down by device, Apple's iPhone generated a huge 35 percent of all ad impressions, while the iPad followed with a 21 percent share and the iPod touch hit third with six percent. A sprinkling of Samsung products trailed the Apple pack. The Galaxy S3 managed only three percent, the S2 hit two percent and the Galaxy Ace and S3 mini brought one percent each.
Finally, Apple's iPhone and iPad were the top performers in their respective mobile device and tablet categories, boasting marketshare of 49 percent and 76 percent, respectively.