Android users accounted for 40% of Apple's iPad sales on Black Friday - report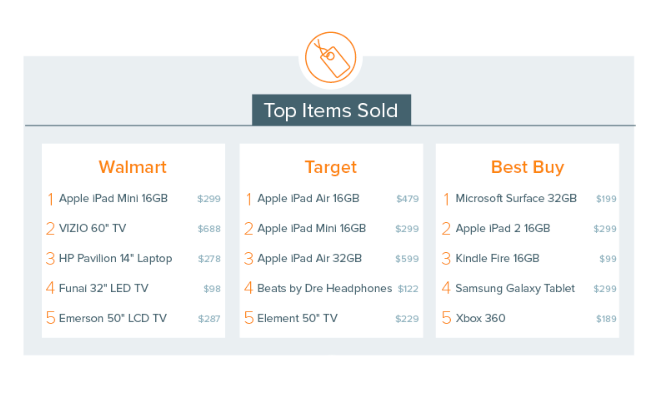 AppleInsider is supported by its audience and may earn commission as an Amazon Associate and affiliate partner on qualifying purchases. These affiliate partnerships do not influence our editorial content.
Android loyalty does not seem to extend to tablets, as new data suggests that 4 out of every 10 iPad units moved during last week's Black Friday shopping event were purchased by customers who use smartphones powered by Google's operating system.

Sales rankings at major retailers on Black Friday. | Source: InfoScout
The report — Â by retail analytics firm InfoScout — Â brings color to the massive popularity of Apple's new iPad lineup, which extends even to users already invested in rival mobile platforms. The firm tracked over 100,000 shopping trips during the annual holiday shopping kick-off.
Apple's tablets took 5 of the top 15 sales slots at major retailers Walmart, Target, and Best Buy. The 16-gigabyte iPad mini was the top seller at Walmart, while the 16-gigabyte iPad Air, 16-gigabyte iPad mini, and 32-gigabyte iPad Air swept all three podium positions at Target.
The iPad 2, despite lacking a Retina display and toting Apple's previous-generation 30-pin dock connector port, put in a surprising second-place showing at Best Buy, beating out Amazon's Kindle Fire and Samsung's Galaxy Tablet. iPad 2 sales were exceeded only by the heavily-discounted 32-gigabyte Microsoft Surface RT.
Despite reports that Android is gaining ground in market share, Apple's iPad continues to dominate real-world tablet usage. Data revealed this summer by web analytics firm Chitika showed Apple with a mountainous 84.3 percent usage share, data that Apple CEO Tim Cook later cited when asked about Android's growing portion of tablet sales.
Earlier this month, a report from Singapore proffered a unique explanation for the sales-versus-usage gap: low-cost, Android-powered TV sticks — Â similar to Google's new Chromecast dongle — Â are said to register as Android tablets during the registration process. The devices, which can be had for as little as $100, are a popular means of watching pirated video content throughout Asia.