Justin Bieber wanted $200k to represent BlackBerry, advertises iPhone for free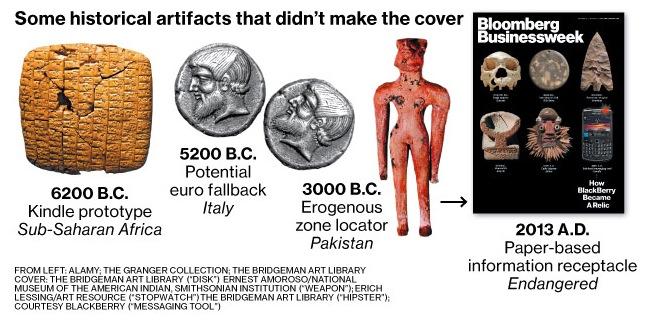 A retrospective on the "Rise and Fall of Blackberry," which portrayed the company's product alongside other historical artifacts (including the magazine itself), outlines a number of mistakes the company made including the dismissal of a "brand ambassador" offer made by teen idol Justin Bieber.
Bieber, who like BlackBerry (formerly Research In Motion) is Canadian, was mentioned in a new BusinesssWeek report by Vincent Washington, a senior business development manager at the company from 2001 through 2011.
BlackBerry blows Bieber's RIM job offer
"One thing we missed out on," Washinton stated, "was that Justin Bieber wanted to rep BlackBerry. He said, 'Give me $200,000 and 20 devices, and I'm your brand ambassador,' basically.
"And we pitched that to marketing: Here's a Canadian kid, he grew up here, all the teeny-boppers will love that. They basically threw us out of the room. They said, 'This kid is a fad. He's not going to last.' I said at the meeting: 'This kid might outlive RIM.' Everyone laughed."
Washington didn't say exactly when the offer was made. Bieber is now 19. He achieved his superstardom after being discovered by a talent manager on YouTube in 2008, and released his first album in 2010. By 2012 he was listed by Forbes as begin the third most powerful celebrity.
BlackBerry goes down on Bieber's rise
Bieber's rapid ascent as a pop star occured in reverse of BlackBerry's ailing fortunes. The company discovered iPhone competition in 2008 when Apple temporarily passed the company to become America's best selling smartphone platform in the fall quarter.
By 2010, Steve Jobs could say, "We've now passed RIM. I don't see them catching up with us in the foreseeable future. It will be a challenge for them to create a mobile software platform and convince developers to support a third platform."
Apple is currently listed by Forbes as begin the world's most valuable brand.
Apple gets Bieber's milk for free
It's not clear how much value Bieber could have offered Blackberry. The company subsequently announced a similar "brand ambassador" deal with Alicia Keys at the beginning of 2013, but the most newsworthy aspect of that relationship was Keys' tweeting from her iPhone just a couple weeks after the announcement.
Last year, Oprah Winfrey similarly used her iPad to send out a tweet endorsing Microsoft's Surface, and at least three times this year, sports celebrities and executives retained by Samsung have forwarded Twitter ads to their legions of followers tagged with "Twitter for iPhone."
Apple hasn't announced any "creative director" or "brand ambassador" endorsement deals with celebrities to promote iPhone or iPad, but celebrities continue to use the company's products anyway. Last year, Justin Bieber used Instagram and Twitter to send a selfie to his online fans with the quickly typed message "Took this on my Iphone 5 the front camera is definitely clearer."
Over 45.5 thousand Twitter followers retweeted the message and 321,000 Instagram followers "liked" the image.
"I have a iPhone 5c it's blue and shining with awesomeness," one girl posted in reply, adding in a second comment, "Like u."
Celebrities and the Ping of death
Having celebrity support doesn't necessarily make up for a weak product however. A recent report by Reuters noted that despite an "aggressive marketing and promotion splurge," Samsung's $14 billion budget for ads and promotion "doesn't always bring the desired result," an instead has alienated audiences with its over the top product placement.
Apple's effort to build social sharing features into iTunes via Ping also failed despite support from pop icons Lady Gaga (who endorsed Ping with an immediately popular profile page and recorded a video presented by Jobs, above) and Coldplay's Chris Martin, who performed at the end of Apple's Ping announcement. Britney Spears, Katy Perry and U2 also created early Ping account pages.
Part of Ping's demise was related to the fact that Apple didn't maintain Ping as a real social network, but instead censored posts (including Gaga's) to avoid potentially offending anyone. Combined with ineffectual spam management and a blockade by Facebook seeking to extort more user data from Apple, not even the world's top stars could maintain its relevance.