Former Apple engineer slims down Square's credit card reader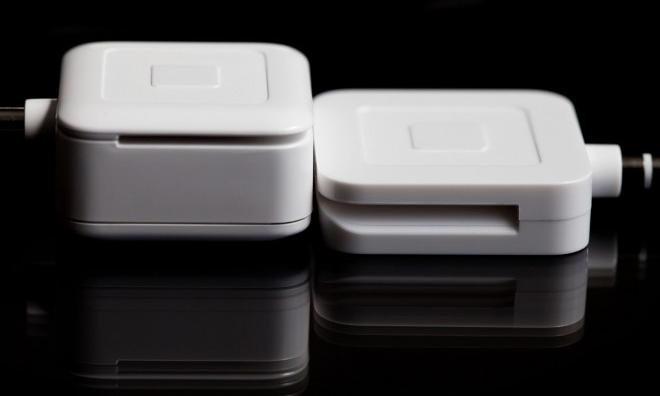 Payments company Square on Monday unveiled a new, slimmer credit card reader designed by a team lead by former Apple engineer and current Square VP of Hardware Jesse Dorogusker.
In an in-depth article highlighting the new Square Reader, a device that allows users to accept credit card payments on most iOS devices, Wired offers a behind-the-scenes peek at how former Apple employee Jesse Dorogusker managed to slim down the already tiny dongle.
For reference, Dorogusker was with Apple for eight years before taking on the VP job at Square. While at Cupertino, he worked on a number of accessory hardware projects, including a lead role in development of Apple's Lightning connector. Dorogusker is also credited as an inventor for multiple Apple patents, from a "smart dock" to an iPod-compatible "smart bike."
The new Square Reader is 45 percent thinner than its predecessor, but contains components that give it a more premium feel. With the new version, Square focused on improving the card reader's singular purpose: swiping credit cards. According to the publication, this meant the company had to make adjustments with "the swipe" to give a more solid, reliable feel.
Instead of off-the-shelf components, the latest Square Reader uses custom-designed parts, like the important read head. Previously, the company employed a common design that could read only one of the two magnetic stripes on a credit card. The latest iteration can pull data from both stripes.
In addition, the custom read head is mounted on a calibrated spring that exerts more force on the card, allowing for additional resistance and a better feeling swipe. The button cell battery seen in the original unit is also gone thanks to a custom-designed chip that is much more efficient, meaning the unit can be powered off an iDevice's headphone jack.
Other aesthetic changes have been made to Square Reader, like a relocation of the credit card slot to the center of the unit, flat front and rear faces and a two card insertion guide lips for multi-directional swiping.
The Square Reader is a free accessory to the Square Register iOS app. Customers first purchase the unit from Square's website or an authorized dealer, then get the cost refunded to their registered bank account.