Apple partner ARM acquires graphics software firm Geomerics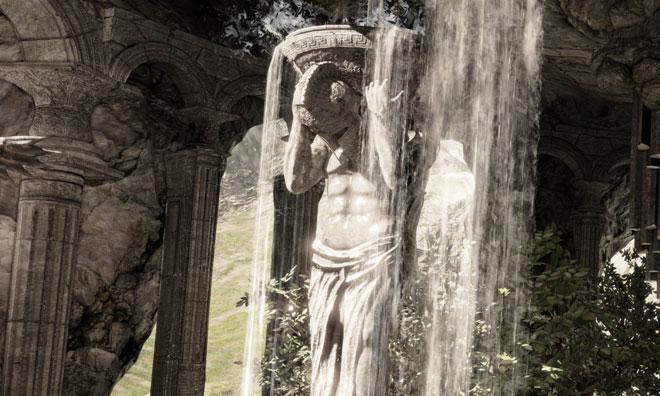 In a bid to bolster the graphics capability of its low-power processors, ARM on Friday announced the acquisition of Geomerics, makers of realtime lighting effects technology used in PC and console gaming.
A 3D scene lit with Geomerics Enlighten
Geomerics — Â based, like ARM, in Cambridge, England — Â is the maker of Enlighten, a product that game companies can integrate into a game's rendering engine to provide dynamic radiosity calculation. Radiosity is a method used to create the effect of "global illumination" — that is, taking into account not only light beams coming directly from a light source, called "direct illumination," but also the reflection of the beams off of other objects when rendering a 3D scene.
Take, for instance, a room with a single spotlight focused on a prism. To achieve the "beam splitting" effect of the prism with direct illumination would require a second light source within the prim itself. With global illumination, the prism's refraction is calculated based on the light it receives from the spotlight, making for a far more realistic scene.
Enlighten enables rendering engines to create these effects in realtime, an achievement which Geomerics says is an industry first. Enlighten has been used extensively in AAA titles from megapublisher Electronic Arts like Battlefield 3 and 4, and Need for Speed Rivals.
Terms of the deal were not made available, but ARM did say the plan is to allow Geomerics to continue running as a separate company, while at the same time integrating Geomerics intellectual property into future ARM designs.
"Being part of ARM will allow us to accelerate our advanced developments for console and mobile platforms while also providing us with unmatched insights into the platforms and devices of tomorrow," Geomerics COO Chris Doran said in a statement.
ARM, which is best known for its power-sipping CPU designs that sit at the heart of application processors like Apple's A-series chips, has worked to upgrade its processors' graphics capability in recent years in the face of competition from companies like Imagination Technologies and nVidia. Apple's A7, for example, pairs ARM CPU cores with a GPU from Imagination Technologies rather than ARM's own Mali GPU line.