Steve Jobs featured in new 'American Cool' exhibit at the National Portrait Gallery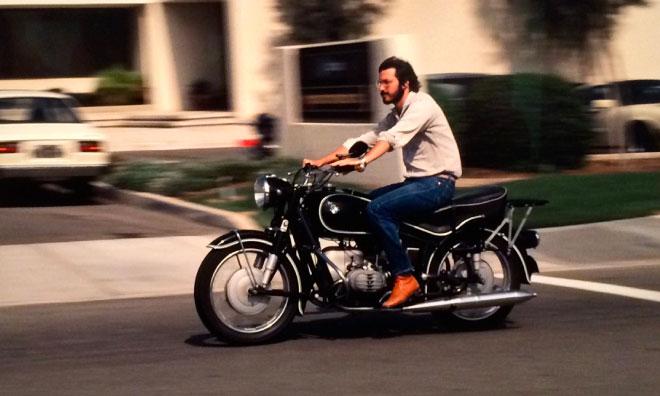 AppleInsider is supported by its audience and may earn commission as an Amazon Associate and affiliate partner on qualifying purchases. These affiliate partnerships do not influence our editorial content.
Visitors to the National Portrait Gallery's new "American Cool" exhibit will find late Apple co-founder Steve Jobs highlighted alongside cultural icons like Miles Davis, Paul Newman, and Jay-Z.
Jobs is shown in bearded, long-haired form, wearing jeans and a long button-down shirt while riding a motorcycle between meetings on Apple's campus. The portrait was spotted in the gallery by Blake Patterson of Byte Cellar.
The exhibit is designed to celebrate people who made America "cool," which the National Potrait Gallery describes as carrying "a social charge of rebellious self-expression, charisma, edge and mystery." The concept is not unlike the one behind Apple's celebrated "Think Different" advertising campaign that featured luminaries such as Pablo Picasso, Joan Baez, and Richard Feynman.
Jobs's ride was captured by well-known photographer Charles O'Rear, who later gained notoriety with another computer-related image: O'Rear is responsible for the infamous "rolling hills" background that shipped with Microsoft's Windows XP operating system.
The portrait's caption, as transcribed by Patterson, is embedded in full below.
"Stay Hungry, Stay Foolish" — the concluding thought in The Whole Earth Catalog — served as Steve Job's unofficial motto. Drawing inspiration from that bible of the counterculture, Jobs recast how people think about and use technology. As the cofounder of Apple, he worked in the shadow of such behemoths as IBM and Microsoft. Yet, with great nimbleness and much brashness he led an upstart company that transformed the consumer electronics industry with revolutionary products such as the Apple II and Macintosh computers, iPod, iPhone, and the iPad. Jobs was always the face of Apple, and his much-publicized ambition to create more elegant and "user-friendly" devices made him part of a national tradition of inventor-heros dating back to to Thomas Edison. "Think Different," Apple's highly successful advertising campaign introduced in 1997, was not only a shrewd marketing slogan but also exemplified Jobs' relationship with the larger industry. Channeling his inner Steve McQueen, the jeans-wearing executive often raced his motorcycle between meetings during Apple's early years.
Charles O'Rear (born 1941)
Reproduction print from 1981 original
National Geographic Image Collection, Washington, D.C.