Court grants Apple's motion to dismiss Siri misrepresentation lawsuit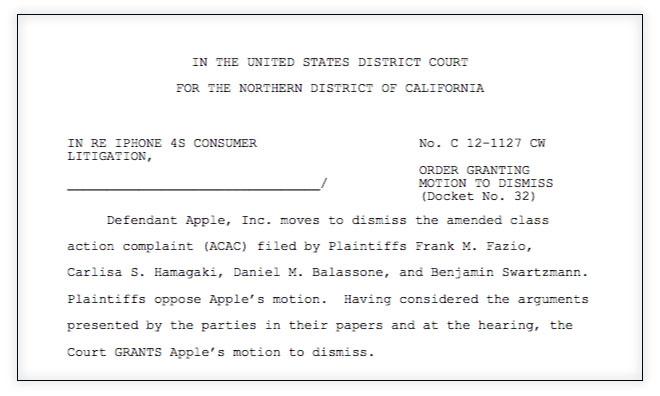 AppleInsider is supported by its audience and may earn commission as an Amazon Associate and affiliate partner on qualifying purchases. These affiliate partnerships do not influence our editorial content.
After two years of legal maneuvering, U.S. District Court Judge Claudia Wilken on Friday dismissed with prejudice a lawsuit alleging that Apple's iPhone 4S advertisements had misrepresented the capabilities of the company's Siri personal digital assistant.
Saying that the claims relied on "non-actionable puffery", Judge Wilken ruled that the plaintiffs failed to show adequate evidence of fraud in Apple's advertising and that a "reasonable consumer" would not expect the product to work flawlessly. The plaintiffs had argued that advertisements featuring Siri made it appear as though the feature could handle any query and would respond instantly.
"Apple made no promise that Siri would operate without fail," Wilken wrote when ordering the dismissal. "A reasonable consumer would understand that commercials depicting the products they are intended to promote would be unlikely to depict failed attempts."
Wilken also took issue with the timing of the lawsuits, originally filed separately in 2012 by Frank M. Fazio, Carlisa S. Hamagaki, Daniel M. Balassone, and Benjamin Swartzmann. Fazio filed suit on the same day he sent a letter notifying Apple of his intentions, while Balassone and Swartzman did so just four days after they sent a similar missive, an interval that Wilken said did not give Apple sufficient time to address the allegations.
Apple had previously argued that the claims were too general when filing a motion for dismissal in 2012.
The plaintiffs "fail to allege any supposed misrepresentation with particularity," lawyers for Apple wrote in the motion. The plaintiffs also did not indicate when they were "exposed to the purportedly misleading advertisements, which ones they found material, how and why they were false, or which they relied upon in purchasing their iPhones," they continued, reasoning that Wilken agreed with.
Because the lawsuit was dismissed with prejudice, the plaintiffs will not be allowed to bring another action over the same claims.