MetaWatch adds step counter for iPhone 5s users, Taco Bell working on mobile ordering system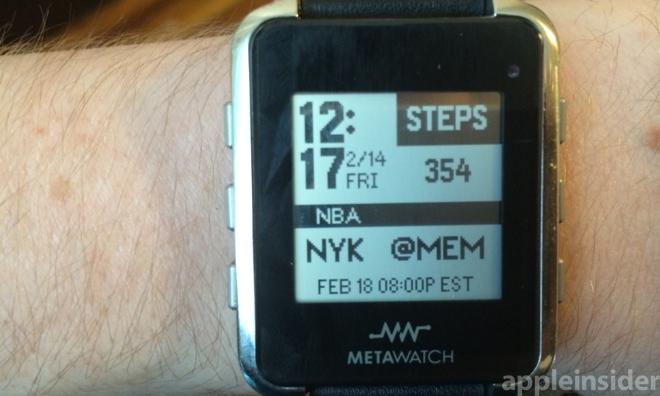 MetaWatch this week updated its iOS application to send basketball scores, as well as steps counted by the iPhone 5s M7 chip, to its wrist-worn accessory. In addition, fast food franchise Taco Bell has revealed it is working on a mobile ordering system that will debut on the iPhone later this year.
MetaWatch gains basketball scores, step counter
The official MetaWatch Manager application for iOS was updated to version 1.3.4, adding a pair of new widgets that offer quick, glanceable information to users of the smart watch device. The new MetaSports Basketball widget allows users to easily follow their favorite professional basketball team's score and schedule.
In addition, the new update adds a step counter widget for iPhone 5s users, leveraging the fitness tracking capabilities of the smartphone's M7 subprocessor.
Similar offerings are available on competing smartwatch Pebble, but those require the installation of separate applications and watch-specific apps from the Pebble appstore, while MetaWatch offers built-in widgets that can be arranged into custom quadrants on the device's screen.
MetaWatch Manager for iOS version 1.3.4 is a 31.5-megabyte download that requires iOS 6.0 or later. The company currently offers the MetaWatch Frame and Strata through Best Buy, while its next-generation "Meta" is set to debut this spring at an unannounced price. For a first-look at Meta, see AppleInsider's hands-on impressions from this year's Consumer Electronics Show.
Taco Bell ordering coming to iPhone this year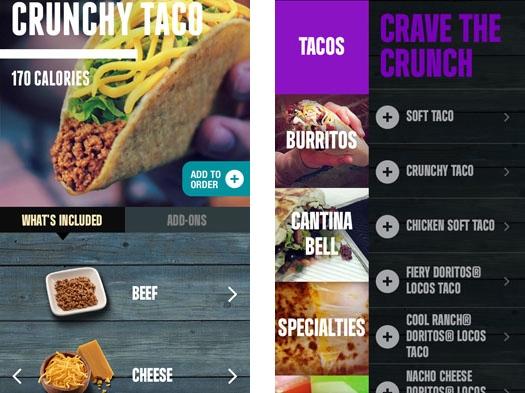 Taco Bell's new app is coming later this year. Screenshots via Nation's Restaurant News.
U.S. fast food chain Taco Bell is planning to launch an application later this year that will allow customers to order ahead of time, before they venture to a nearby location, according to Nation's Restaurant News. The application is said to have been in development for two and a half years, and a beta test with five locations was recently conducted in Orange County, Calif.
The report also revealed that McDonald's and Chick-fil-A are working on similar applications, but no specific functionality or timetables for respective releases were revealed.
Mobile applications have proven popular for pizza chains like Domino's in the U.S., allowing customers to customize, place and even track the status of their order without needing to pick up the phone. But fast food chains like Taco Bell and McDonald's would be new to such efforts.
Taco Bell officials said they believe the new application will appeal to younger audiences, who are already connected through their smartphone and expect to be able to access anything from it. Rather than using an off-the-shelf solution, Taco Bell is said to have developed its own proprietary system that will be entirely unique to the chain.
The application will offer users the nearest location and will display greetings that vary based on the time of day. Users can customize their menu selections, and "smart upsell" opportunities will be included, offering users typical meal additions such as drinks or desserts.
The system even accesses the GPS in a user's iPhone, detecting when they are nearing the store to ensure that the food is hot and ready once the customer arrives.