Deals: Lowest prices ever on 3 custom configured Haswell MacBook Pro Retinas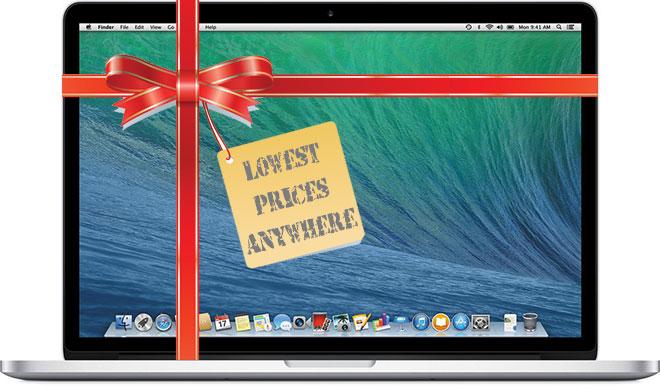 AppleInsider is supported by its audience and may earn commission as an Amazon Associate and affiliate partner on qualifying purchases. These affiliate partnerships do not influence our editorial content.
Apple authorized reseller and B&H Photo this week is offering users of our Price Guides between $150 and $255 off a handful of well-equipped 13-inch and 15-inch MacBook Pro Retina deals. In each case, the final price is the lowest we've ever seen for these current, Haswell-based models and includes free shipping and no tax on orders outside New York.
All three deals are available on a first-come, first serve basis while supplies last. To take advantage of them, simply use the links to the MacBook Pros in this article or in the Price Guides and make sure your browser isn't in private browsing mode and has cookies enabled.
13-inch MB Pro Retina 2.8GHz/8GB/1TB (Reg $2,499) for $2,349 $150 Savings
13-inch MB Pro Retina 2.8GHz/16GB/1TB (Reg $2,699) for $2,549 $150 Savings
15-inch MB Pro Retina 2.3GHz/16GB/256GB (Reg $2,299) for $2,149 $150 Savings
Also keep in mind that B&H only charges sales tax on orders shipped to its home operating state of NY while also offering significant discounts to AppleInsider readers on Apple's 3-Year AppleCare protection plans for those Macs when purchased as part of the same order.
To bundle AppleCare with a Mac, first add the Mac to your cart. When you view your cart, you should then see an option to add a discounted AppleCare plan for each Mac (example). A free copy of Parallels Desktop 9 for Mac (for running Microsoft Windows on your Mac) is also thrown in with each order.
For readers outside NY, below are the final total prices for these three MacBook Pro Retinas with a 3-Year AppleCare protection plan.
13" MB Pro Retina 2.8GHz/8GB/1TB + AppleCare (Reg $2,748) for $2,528.99 $219 Savings
13" MB Pro Retina 2.8GHz/16GB/1TB + AppleCare (Reg $2,948) for $2,728.99 $219 Savings
15" MB Pro Retina 2.3GHz/16GB/256GB + AppleCare (Reg $2548) for $2,393.00 $255 Savings
For savings on other Macs and Apple products, see our Price Guides at prices.appleinsider.com, a portion of which is also below: