Apple's Tim Cook meets Israeli Prime Minister Netanyahu at Apple HQ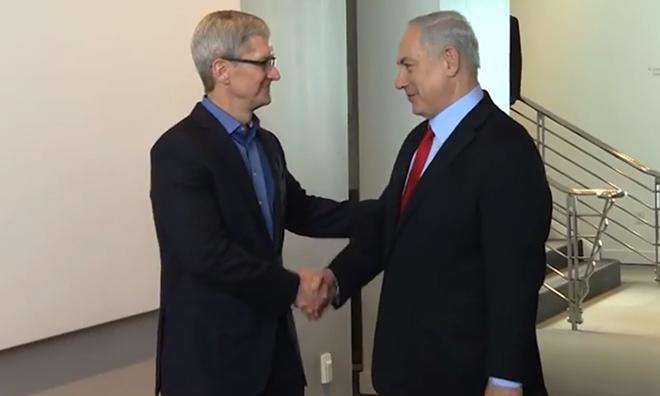 A short video clip posted to Israeli Prime Minister Benjamin Netanyahu's official YouTube page on Thursday shows the leader meeting with Apple CEO Tim Cook at the company's headquarters in Cupertino, Calif.
As seen in the embedded video below, apparently taken by a member of Netanyahu's delegation, Cook greeted the Israeli PM at Apple HQ's Executive Briefing Center, where the two had a meeting over lunch.
While a list of those in attendance has not been released, Apple SVP of Legal and Government Affairs Bruce Sewell can be seen sitting next to Cook at the large conference table.
The details of the discussion are unknown, though Cook can be heard mentioning "R&D skill" near the end of the video, suggesting the talks at least touched upon Apple's various operations in Israel.
Currently, the company has three R&D sites in the region, including facilities in Ra'anana, Hafia and Herzliya, the latter being acquired after the purchase of flash memory firm Anobit. In addition, Apple extended its footprint in Israel with the purchase of PrimeSense, a company that creates sensors, hardware and middle-ware for motion sensing and 3D scanning applications.
While not of the greatest import, there was some light-hearted banter between Cook and the prime minister when they first walked into the reception area. The two stood for a photos in front of a large poster bearing a quote from late Apple cofounder Steve Jobs:
If you do something and it turns out pretty good, then you should go do something else wonderful, not dwell on it for too long. Just figure out what's next.
After a quick read, Netanyahu asked wryly, "You can't ask that of government," to which Cook said, laughing, "No, I wish we could."