Apple initially wanted original iPhone to be 'always on' device but opted for 'slide-to-unlock'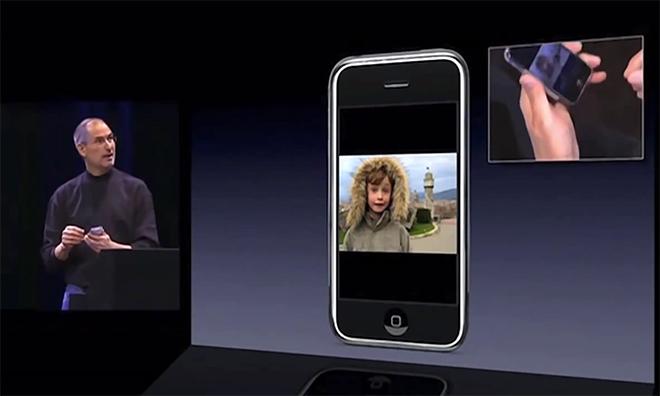 AppleInsider is supported by its audience and may earn commission as an Amazon Associate and affiliate partner on qualifying purchases. These affiliate partnerships do not influence our editorial content.
During the Apple v. Samsung patent trial on Friday, Apple software engineer and head of the company's human interface team Greg Christie took the stand to offer background on the original iPhone, specifically the "slide-to-unlock" feature.
According to in-court reports from Re/code, Christie said "swipe-to-unlock," a feature first made popular by Apple that later inspired iterations from competing smartphone manufacturers, was born from the idea of an always-on iPhone.
The design was unfeasible, however, due to power requirements associated with a device that would, in theory, never sleep and be ready to go with a touch of the screen. Instead, a normal power cycling method needed to be incorporated.
"We couldn't meet our power requirements if we had that active a state," Christie said. "We had to resort to a power button."
As with any design process, concessions were made and the iPhone was ultimately introduced with a unique software-based power control mechanism in "slide-to=unlock." Christie went on to say that the feature addressed concerns with pocket dialing and inadvertent screen presses, unique problems associated with a device mainly reliant on its display for user input.
According to a separate report from CNET, Apple spent three years on the original iPhone, dubbed "Project Purple," to ensure the GUI would be easily accessible and transparent to all users.
"One of the biggest challenges is that we need to sell products to people who don't do what we do for a living," Christie said, explaining that Apple wanted "normal people — people with better things to do with their lives than learn how a computer might work — to use the product as well as we can."
The remainder of Christie's testimony was largely a rehash of an interview he gave to The Wall Street Journal last month. In it, the Apple human interface chief discussed the history of Project Purple and a brief overview of the important patent involved in the iPhone's design.
Apple is seeking some $2 billion in damages in the second Apple v. Samsung patent trial, asserted claims of which include the "slide-to-unlock" property. The Cupertino, Calif., company is asserting five claims from five patents.
Samsung, however, argued on Friday that Apple touted the feature as one of hundreds, alluding that the few claims are not worthy of a large damages payout.