Metal iPhone 6 mockups make appearance at Hong Kong electronics show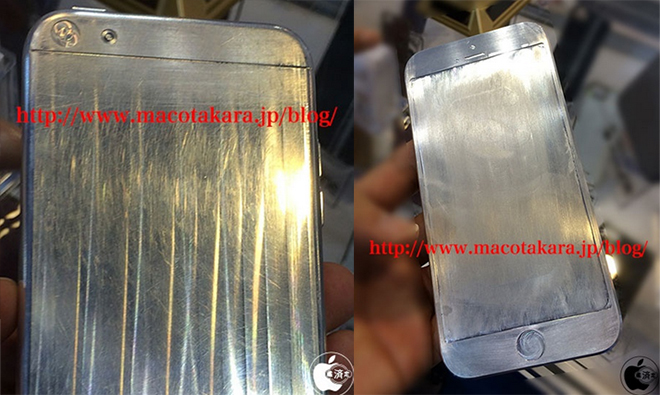 Adding to a slew of iPhone 6 related "leaks," a case maker at the 2014 Hong Kong Electronics Fair on Tuesday showed off a tooled metal mockup purportedly representative of Apple's next-generation iPhone 6.
According to Mac Otakara, a number of vendors at this year's Hong Kong trade show are fielding iPhone 6 wares — mostly cases — in spite of an apparent lack of official specifications from Apple. The expo, put on by the Hong Kong Trade Development Council (HKTDC), is billed as Asia's largest spring fair that highlights a variety of products from OEMs and aftermarket vendors.
One exhibitor claimed to have physical metal mocks of the iPhone 6, which the unnamed company apparently used to fabricate what looks to be slim plastic shell cases. As noted by the publication, the tooling part was rough and appeared to be finished by hand.
Interestingly, the back side of the metal mockup boasts an uncanny resemblance to a highly questionable photo from March that claimed to reveal a finished iPhone 6 chassis. Both the mockup and the alleged case back include a protruding rear-facing camera lens and single round flash module, inconsistent with current models that sport a flush-mounted lens and pill-shaped True Tone dual-LED flash.
As seen in the video below, the iPhone 6 commands a presence at the Hong Kong fair even though Apple has yet to announce the product. A number of exhibits played on the brand name to draw visitors into booths filled with unlicensed third-party accessories. For example, one vendor put up a banner reading, "iPhone 6 COMING SOON," while their booth was full of non-MFi Lightning connector components.
Apple is widely expected to launch two new iPhone models later this fall, both of which are said to sport larger displays. Noted KGI analyst Ming-Chi Kuo, who has a reliable track record in predicting Apple's future product offerings, recently said he believes the company will debut 4.7-inch and 5.5-inch versions of the flagship handset, though their release dates may be staggered due to low screen production yield rates.
Earlier on Tuesday, a purportedly leaked photo of an alleged iPhone 6 front plate surfaced on Chinese microblogging website Seina Weibo. Further investigation suggested the part could potentially fit a 5.1-inch screen with 16:9 aspect ratio.