Touch panel makers face falling revenue thanks to faltering touchscreen PC sales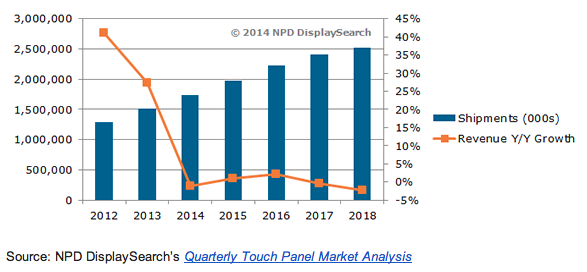 Despite rising overall sales, manufacturers of touchscreen components are set to feel the squeeze in their bottom line as more players enter the market and shipments shift toward lower-margin parts for tablets and smartphones.
"Increased competition among the growing number of touch-panel makers is causing overall ASP and revenue declines, even as shipment volumes continue their upward trajectory," NPD DisplaySearch research director Calvin Hsieh said. The revelation came as part of NPD's most recent quarterly analysis of the touch panel industry.
According to the report, industry revenues are expected to decline by 1 percent in 2014 despite a 15 percent increase in shipments. That juxtaposition, Hsieh believes, will spark a wave of consolidation in the industry.
"Some touch module makers will not survive the coming shakeout, but others are already preparing for new opportunities, including increasing production of new indium tin oxide (ITO) replacement materials," he said.
Just 15% of laptops are expected to ship with touchscreens in 2014, NPD says
Much of the problem is though to center around a surplus of materials originally destined for touchscreen PC production. Demand for those products — which former Apple CEO Steve Jobs famously called "ergonomically terrible" — has been weaker than expected.
"We've done tons of user testing on this, and it turns out it doesn't work," Jobs said of touchscreen-equipped laptops at an event in 2010. "Touch surfaces don't want to be vertical."
Software giant Microsoft has been a major proponent of such devices in recent years, with its flagship Windows 8 operating system controversially designed to cater to that market. The strategy has largely failed, however, as consumers instead opt for more traditional components and Windows 8 adoption remains low.
"Unless applications for 10-inch-and-larger screens can grow faster to create a new and growing market, it is inevitable that touch module makers will continue to compete fiercely, which will lower ASPs and revenues in the smartphone and tablet PC markets," Hsieh added. "Windows 8 has not convinced end users to pay the premium for touch screen use."
AppleInsider has affiliate partnerships and may earn commission on products purchased through affiliate links. These partnerships do not influence our editorial content.