Apple's iOS continues to dominate mobile web browsing as Android gains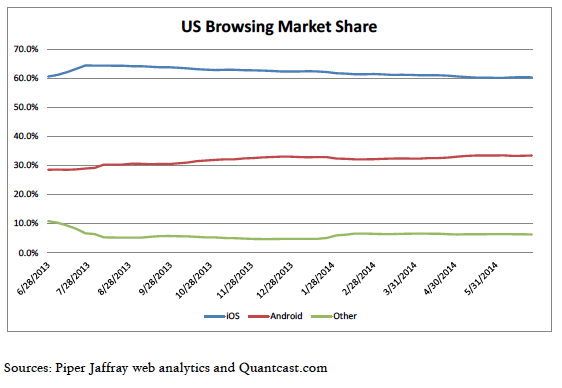 AppleInsider may earn an affiliate commission on purchases made through links on our site.
Even as Google counts some 1 billon monthly active users for Android worldwide, more than six out of every ten page views from a mobile device in the U.S. still come from an iPhone, an iPad, or an iPod touch, according to new browsing data released on Monday.
Apple's share of the U.S. mobile browsing market is off just 4.1 percentage points from its high last July — down from 64.4 percent to 60.3 percent — and is nearly flat year-over-year. Google's Android, meanwhile, ticked up by 4.5 percentage points to 33.4 percent over the same period.
The data was collected by audience measurement firm Quantcast and released in a Monday afternoon note to investors from Pipar Jaffray analyst Gene Munster, a copy of which was provided to AppleInsider. Quantcast sampled around 1 billion mobile page views to arrive at the share data, which Munster equates to approximately 1.5 percent of the viewing market.
Munster put forward a number of hypotheses for iOS's continued superiority, beginning with the iPhone's position as the most popular smartphone at major wireless carriers AT&T and Verizon. He also believes that iOS users are likely to be "more engaged with their phones on a daily basis" than their Android counterparts and that the iPad contributes a proportionally larger amount of traffic than Android tablets.
As they battle between themselves, Apple and Google are also slowly pushing out other operating systems. Though the data was not broken out in detail, it is likely that much of the 4.6-percentage point drop over the last year can be attributed to lackluster sales of Windows Phone-based devices and handsets from beleaguered Canadian smartphone maker BlackBerry.